3 December 2007
MAPILab company has got a new Microsoft Partner Status - Small Business Specialist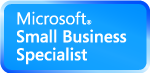 Since 2004 the MAPILab company has been a Certified Microsoft Partner. In 2005 it got a Microsoft Gold Certified Partner status.
MAPILab's professional skills have been proven by the following Microsoft Competencies:
We are happy to inform our clients and partners that the MAPILab company has got a new Microsoft Partner Status - Small Business Specialist, which confirms that the MAPILab team is highly experienced to use its knowledge to detect and meet small business demands for software solutions.
The MAPILab team is engaged with constant mastering its professional skills and knowledge, which enables us to be capable of enhancing the efficiency of small business operations of our customers.
News list