16 April 2008
MAPILab Reports 2008 will be presented at Microsoft Spring Partner Forum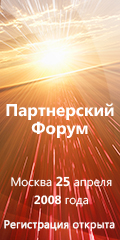 The MAPILab company would like to invite you and your colleagues to visit the company stand at the exhibition that will take place within the Microsoft Spring Partner Forum on the 25th of April 2008 in Moscow.
Alexander Gorlach, MAPILab President, and Alexey Kuznetsov, Head of Server Technology Department and the leader of the MAPILab Reports 2008 project, will present a new advanced management tool for creating various reports on the IT-infrastructure of a company. A number of unique features distinguish MAPILab Reports from its competitors. If you want to make an appointment with us, please feel free to contact us at: matveeva@mapilab.com
The Forum is held on the 25th of April 2008 in Moscow: Redisson Slavyanskaya Hotel (Berezhkovskaya nab., 2).
We will be glad to meet you at the Forum!
MAPILab Company
News list