22 June 2005
MAPILab Rules is a winner!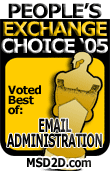 We are glad to inform our users, that MAPILab Rules for Microsoft® Exchange Server is a winner of "THE FOURTH ANNUAL EXCHANGE PEOPLE'S CHOICE AWARDS" according to MSD2D.Com!
The Fourth Annual People's Choice Awards recognizes the best products and companies in the industry.
We do our best to create really high-quality and reliable solutions. We sincerely appreciate your votes. Thank you!
News list