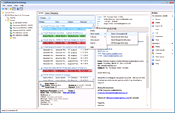 MAPILab Search for Exchange is a solution intended for searching messages and other items in multiple mailboxes on Microsoft Exchange servers. The product is a powerful and flexible tool for carrying out multi-mailbox searches, and provides greater functionality than the built-in features in Microsoft Exchange 2007/2010 servers.
Importance of a document with confidential information can be crucial for modern business. Corporate mail can be a channel of confidential data leakage. Therefore a powerful and convenient solution for searching messages in the corporate mail is required to comply with information security requirements for quick and effective investigations. MAPILab Search for Exchange is exactly this kind of solution.
MAPILab Search for Exchange is designed to fulfill a range of tasks to automate the e-discovery process in your organization. The following ones should be emphasized:
Internal investigations. MAPILab Search for Exchange will simplify internal investigations since it can help to find the required messages or message chains relating to an incident. It will allow determining both the incident nature and its content and people involved.
Human Resources activity monitoring. Flexible search criteria in MAPILab Search for Exchange can help the management to monitor the personnel activity in electronic messages detecting already committed violations and potential threats.
Legal discovery. If a company is involved in any judicial inquiry, mail messages can serve as part of the evidential basis. Searching messages through all mail stores without a special solution can be a long and labor consuming process. MAPILab Search for Exchange functions allow to accomplish such tasks in a quick and effective manner retrieving only relevant results.
MAPILab Search for Exchange features:
Compatible with Microsoft Exchange Server 2003/2007/2010, Microsoft Small Business Server 2011.
Easy implementation and deployment: product implementation status check system and convenient step-by-step wizards for possible troubleshooting.
Step-by-step wizards for search query creation and fulfillment.
Searching in any mailboxes on all servers of the organization.
Flexible search parameters including searches considering search query language, searching by message types, mail folders, dates, mail senders/recipients, etc.
Capability of quick search for additional information based on initially retrieved data.
Efficient search result processing in the application's specially developed interface.
Ample opportunities of search result grouping, filtering, sorting and marking.
Search result export both in the form of separate message file sets (.eml, .msg) and in the form of a single file suitable for printing out (.mht).
Monitoring of the current search status and possibility to manage the current tasks (priority shifting, fault detection) in the real-time mode.
Download Trial Version
You can download free 30-day trial version of MAPILab Search for Exchange (6073 KB) and test it before purchasing. The product doesn't have any limitations during the trial period.

Primary Download


Secondary Download
Ordering Information
The trial version of MAPILab Search for Exchang is fully functional, but there are two limitations: search result export and message headers and source viewing is disabled.
If you want to use MAPILab Search for Exchange after 30-day trial, you need to purchase a license for the software.
MAPILab Search for Exchange has mailbox -based license model and it is licensed by purchasing of mailbox licenses required number.
Please, follow to the registration page where you will be able to get a quote and calculate your order.