Извините, но эта новость в данный момент доступна только на английском языке:
19 Октября 2006
Visit our booth at Systems 2006 in Munich!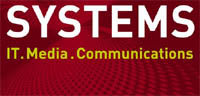 The MAPILab company is to take part in the international exhibition of information technology, telecommunication and innovations in information media "SYSTEMS 2006" which takes place on October 23-27, 2006 in Munich, Germany.
The visitors would be able to learn about the latest trends at various expositions as well as to discuss them at panels, discussions and workshops which will be held in the framework of the exhibition. Systems is to feature a great number of innovation technologies so it is bound to become a revolutionizing event.
The visitors of the exhibition will be provided with the latest solutions developed by MAPILab - software for Microsoft Outlook, Microsoft Exchange Server and Microsoft Office as well as with the possibility to learn more about the terms and conditions of the MAPILab Partner program and to get consultations from the company's specialists.
We would be glad to see you at Systems 2006 at booth 556, pavilion A3!
If you would like to make an appointment with us in advance, e-mail us at: (tsiplakov@mapilab.com).
Список новостей