Leider ist diese Nachricht momentan nur auf Englisch vorhanden:
17. Oktober 2022
Enhanced personalization in Send Personally for Outlook
We are thrilled to introduce a new Send Personally app version, a handy solution for sending bulk personalized emails in Outlook.
New version 3.2 provides you with additional options to personalize your email campaigns and truly engage customers by communicating with each as an individual. Now, along with previously available Full, First, Middle, Last names, Email and Contact Group, you can use the following new macros with recipientís data:
Company name
Job Title
Department
Web page address
Title
Suffix, such as Jr., III, or Ph.D.
Initials
Those details must be specified in relevant Outlook contacts for each recipient.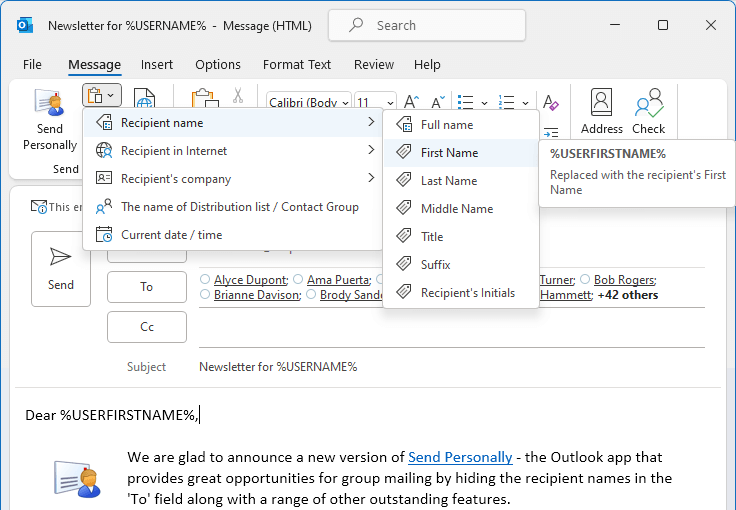 Also in this update:
Add-in interface changes: macros are merged into groups and displayed with Contact field names.
Several minor issues with conversion to HTML format are fixed.
You are welcome to update the add-in at the Send Personally for Outlook homepage.
All users with active license for the software maintenance service can get the latest version without extra fee. You can check your license status at the License Renewal page.
Feel free to contact us if you have any questions or comments.
Newsliste