Leider ist diese Nachricht momentan nur auf Englisch vorhanden:
20. Januar 2022
Meet a new version of Send Personally for Outlook
We are glad to announce a new version of Send Personally - the Outlook app that provides great opportunities for group mailing by hiding the recipient names in the 'To' field along with a range of other outstanding features.
There are some extremely useful features that have been added in the new version. First of all, it's possible now to schedule time of sending messages and limit the number of outgoing emails per minute. Scheduling allows you to optimize your working time - you can prepare your mailout in advance and setup the best time for delivery with Send Personally, for example, if your recipients are in another time zone. Message limit is also well-known issue that is usually related with limitations declared by your service provider or corporate policy. Such limitations will not be a problem anymore with mentioned feature of the Send Personally app.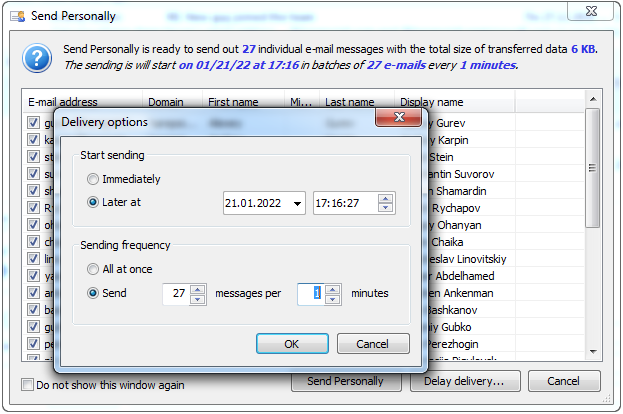 Secondly, now you can view the recipient list, check data correctness and exclude recipients from the mailing before sending your email. The next new feature extends customization opportunities - the "Insert HTML" feature of the app allows you to add macros into URLs in the pre-designed HTML form used as message body. And also Send Personally can be used in the "Inline reply mode" now.
Finally, the compatibility with Office 2021 and Windows 11 has been added in the new version along with some small updates and fixes. We also would like to inform you about a new licensing model for the product - the annual subscription works now.
You are welcome to update the add-in on the Send Personally for Outlook homepage.
Newsliste