Leider ist diese Nachricht momentan nur auf Englisch vorhanden:
3. Juni 2021
New Mail Merge Toolkit: password-protection for PDF and DOCX + personalized DOCX attachments
Today we are excited to finally present a new version of Mail Merge Toolkit. Itís a well-known solution that significantly expands Microsoft Office mass mailing capabilities by allowing users to personalize the subject line, add CC/BCC recipients, send attachments, select a sender, create PDF documents and other awesome features. And version 5.0 comes along with a new DOCX format, password-protection for generated attachments, customizable sending reports, and much more.
Mail Merge with Password-protected PDF and DOCX Attachments
These days data privacy and security issues have become a critical part of our life. And following user requests, we added a new option to protect created files with a password. This feature prevents unauthorized users from accessing, copying, editing, and printing sensitive data. And itís available for PDF and DOCX files created using Mail Merge Toolkit. Documents can be encrypted with a single or different personal passwords.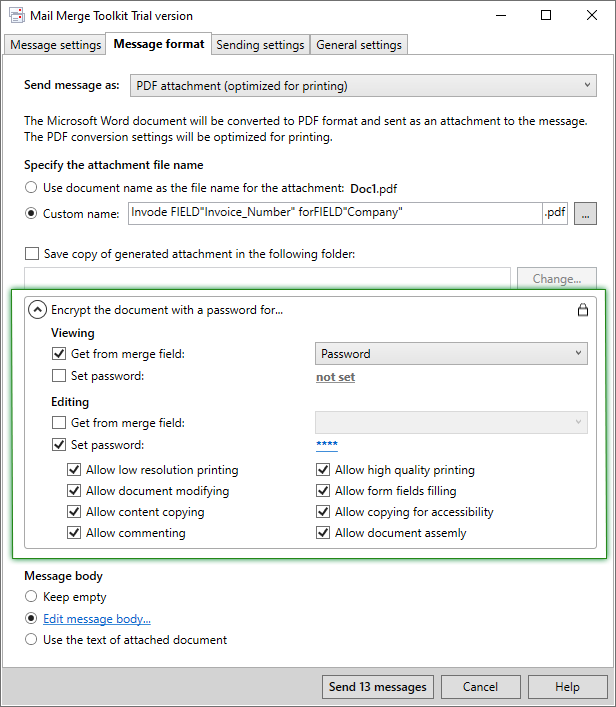 You are welcome to check our new video with the example of securing personalized attachments in mail merge:
Mail merge with personalized DOCX attachments
Since version 5.0 Mail Merge Toolkit can create and send personalized DOCX files. This option goes along with standard features like custom file name, saving individual file, etc., as well as with newly introduced encryption. But the main difference from the native Microsoft Office mail merge feature is that you can also send a personalized message. That means you can use merge fields both in the email body and in the attached document simultaneously.
DOCX file is a zipped, XML-based text document file format developed by Microsoft to improve performance and save storage. Introduced in 2007, it became one of the most popular standards for document exchange, supported by Windows, macOS, Android, and numerous software for opening and text editing.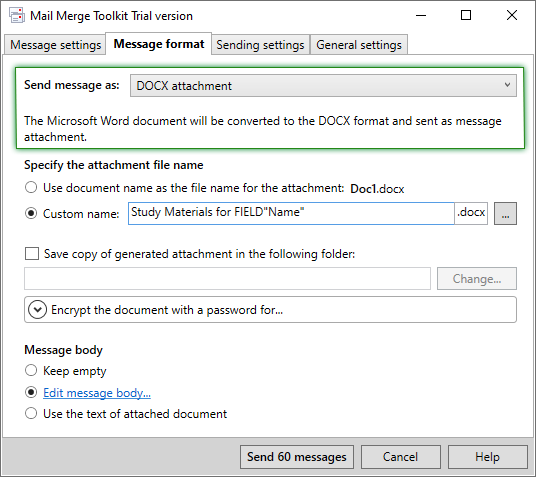 Email Campaign Reporting
After finishing the sending, Mail Merge Toolkit allows you to save a spreadsheet with a Final Report. This update allows you to customize it to fit your needs. New columns have been added, and now you can select the ones you need and rearrange the list. Itís quite useful to keep track of your email campaigns and work with follow-ups.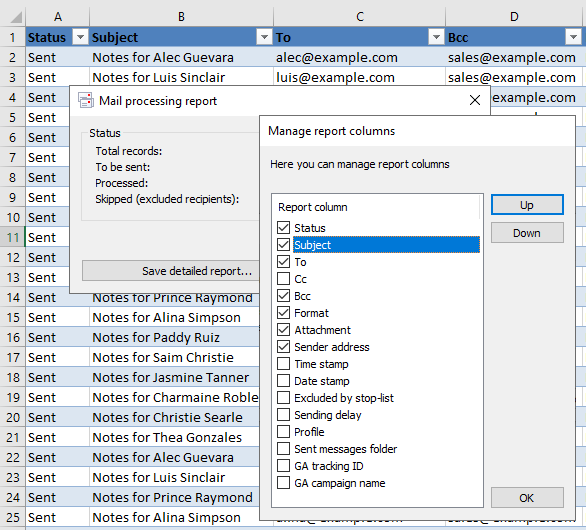 Other improvements:
Once you have finished selecting mail merge options, you can save your choices for future uses.
When converting a Word template to a personalized attachment, you can use the same text in the message body.
Trial counter helps to see how many days are left for testing the add-in.
And many more improvements and fixes. We appreciate all your feedback and suggestions!
You are welcome to download and try the new version of Mail Merge Toolkit.
Upgrade from Standard to PRO Edition
We also need to note that personalized DOCX attachments and password protection for the PDF and DOCX features are included in the Pro Edition. But keep in mind that if you have the Standard edition and are interested in new features, you can always purchase the license upgrade for the exact price difference. Please, contact the sales team.
Newsliste