Leider ist diese Nachricht momentan nur auf Englisch vorhanden:
19. September 2022
Add New Fields to the View – new component in MAPILab Toolbox for Outlook
We are happy to announce a new version of MAPILab Toolbox for Outlook - the ultimate set of 21 different add-ins for Microsoft Outlook for the price of one! This tool really covers all the little (but annoying!) needs that arise in your daily work in Outlook. You can easily schedule message sending; autofill message fields upon creation; plan the number of messages to be sent within a specified timeframe; redirect your messages; and more.
In this update we are happy to introduce a new component Add New Fields to the View. Using this tool, you can display additional hidden technical details of the message as custom columns in the View settings. MIME headers and MAPI Properties contain important information about the origin and path an email took before arriving at your mailbox. The tool saves selected details as a user-defined field, which can be added to the Outlook folder view. That allows you to sort and group messages using this information.
Custom columns for Outlook views
Sender Address - actual email address, not a display name.
Sender Domain - domain used to send emails from, which comes after the @ in a sender address.
Sender IP - IP address of the computer that had sent the email.
Return Path - address for return mail.
Message-ID - added by the mail server that sends the message out on behalf of the mail client.
X-Mailer - tells what software was used to create and send the message.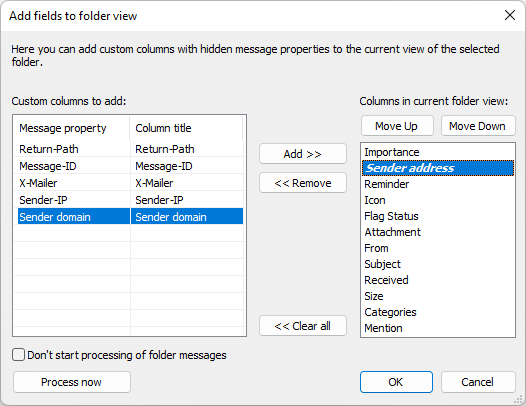 Also in this update:
Support for Windows 11, Outlook 2021 and Outlook 365 for Windows is added.
Email Scheduler - search in the list of rules for scheduled messages is supported now.
Add-in performance is significantly optimized and accelerated for loading in Outlook and accomplishing tasks of Toolbox components.
Resize of several main add-in dialogue windows is added.
Other interface updates.
Find more details about new Add New Fields to the View component and download MAPILab Toolbox for Outlook 3.10.
All users with active license for the software maintenance service can get the latest version without extra fee. You can check your license status at the License Renewal page.
Feel free to contact us if you have any questions or suggestions.
Newsliste