Add New Fields to the Outlook View component
View hidden email details in selected folders
Microsoft Outlook allows you to customize the look of email folders by managing the View settings. You can change the organization of items, fonts, and many other settings. Each folder, such as Inbox or any other, can have different Views. It is very convenient, but unfortunately, not all details are available out of the box.
But using Add New Fields to the View tool you are able to display additional hidden technical details of the message as custom columns in the View settings. MIME headers and MAPI Properties contain important information about the origin and path an email took before arriving at your mailbox. The tool saves selected details as a user-defined field, which can be added to the Outlook folder view. That allows you to sort and group messages using this information.
Custom columns for Outlook views
Sender Address - actual email address, not a display name.
Sender Domain - domain used to send emails from, which comes after the @ in a sender address.
Sender IP - IP address of the computer that had sent the email.
Return Path - address for return mail.
Message-ID - added by the mail server that sends the message out on behalf of the mail client.>
X-Mailer - tells what software was used to create and send the message.
Example: sender's email address as a column in the Outlook folder
Let`s say we need to see real sender addresses instead of display names, like Twitter in this Outlook folder.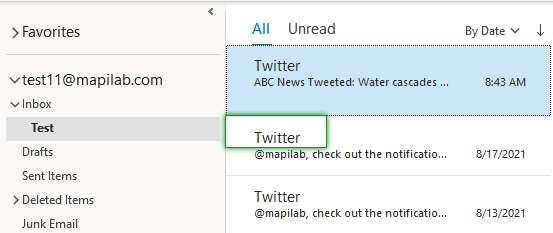 First of all, make sure the Add New Fields to the View add-in is enabled. For that, after installing MAPILab Toolbox for Outlook, open MAPILab Tab on the Ribbon and click Options. Next, locate Add New Fields to the View in the list of available add-ins and select the checkbox next to it: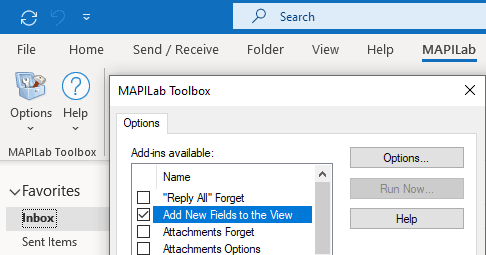 Next, click Options on your right. That will open the list of available Outlook folders. Select the one where we want to add additional details to the view: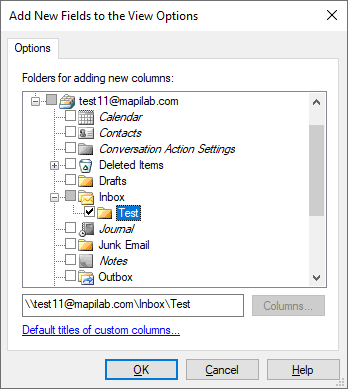 Add the Sender address column to the current folder view. You can manage the column order by moving items up and down. And click OK.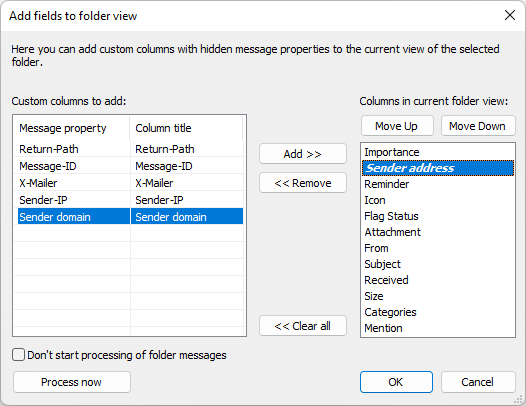 Now we can see the actual sender email address for messages in that folder: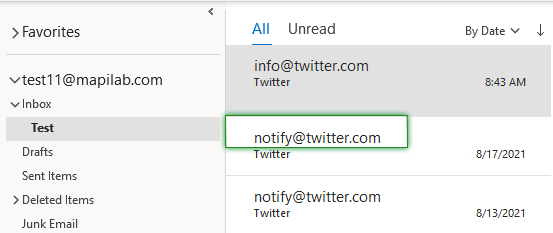 You can also manage custom columns, by right clicking on a folder:

Add New Fields to the View component is one of many add-ins included into MAPILab Toolbox for Outlook. You can learn more about add-ins and download the trial version at the MAPILab Toolbox product page.
Click here to find detailed information about licenses and purchase the full version of MAPILab Toolbox.