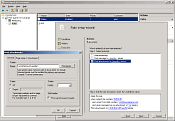 Print Agent for Exchange allows to automatically print out the necessary emails and attachments. A practical system of rules, including conditions, actions, and exceptions, allows defining criteria for printing of really necessary messages and attachments. Print Agent for Exchange can print both email messages and attached files (images, HTML, PDF, txt). Microsoft Office files (Word, Excel) can be also printed.
This solution is compatible with Microsoft Exchange Server 2019, 2016, 2013, 2010, 2007, 2003. The product consists of three components – a management console, which can be installed on any workstation in the domain, transport agents, installed on the Exchange server, and one or more services that are directly processed printing.
Print Agent is an Exchange solution. To
print necessary emails and attachments from Microsoft Outlook
, please try another MAPILab software —
Print Tools for Outlook
.
Product features:
Printing is performed from a service, which can be installed on any computer or server in the organization. No client application with a logged-in user is needed for the functioning of the rules and sending documents to print.


Simple but effective protection against failures in the printing of required documents: the print service for messages can be installed on multiple computers in the organization. If one of them for any reason is unavailable, the documents will be printed using any of the active services.


Wide range of print settings, both in the rules of the product and in the printer settings of a specified user.


Print Agent for Exchange can apply text or image watermark to the PDF files when printed. 


A special system for centralized monitoring of the current status and performance of the product as a whole. Control over the whole system of rules can be performed from a single console.


The installation process and product management are unified for all Exchange versions. Product installation and deployment are performed with the help of a convenient installation wizard, while management (creation and customization of the rules for selection of messages and attachments for printing) is carried out by means of the console. The company-wide product deployment is possible from any single computer/server, which could be also used to set up and adjust rules for all Exchange servers in the company.
Download Trial Version
You can download the free 30-day trial version of Print Agent for Exchange (57872 KB) and test it before purchasing.
Ordering Information
The Product is licensed according to the following principle: the number of licenses must be equal to the total number of Exchange Back-End and/or Exchange Hub Transport servers where the Product component known as "Print Agent for Exchange Agent" is installed. The Product components known as "Print Agent for Exchange Management Console" and "MAPILab Printing Service" can be installed on any number of computers without limitations.
Pricing:
| | |
| --- | --- |
| License type | USD |
| Print Agent (1 Exchange Server license) | $659 |

If you would like to purchase licenses for more than 5 Exchange servers, please feel free to contact our sales team.
Technical support.
The license grants you the right to access new versions and technical support free for one year. After that, you can continue to use the installed version of the product without any limitations, but if you would like to get technical support or to download newer versions of the product, license renewal will be required. To get the status of your license and to renew it, please see the Renew license section.
Technical support is provided via email and our ticketing system via the website.