Duplicates Remover is a powerful and flexible plug-in for Microsoft Outlook intended for the search and processing of duplicates in Microsoft Outlook folders.

This plug-in for Outlook processes contacts, notes, tasks, journals and calendar items in Microsoft Outlook folders. To remove duplicated email messages, please try another our product — Duplicate Email Remover plug-in .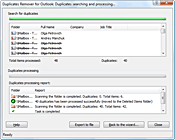 You can use this plug-in for Microsoft Outlook to find duplicates both in a single folder and in different folders. Any duplicate found can be: marked with a flag, deleted, copied or moved to any folder of your choice.
The priority system is used to perform the search for duplicates across several folders. Using the priority system, you can specify, for example, that of the two identical items (contacts, calendar, tasks, etc) stored in the folders "Important Letters" and "Temporary Folder", the temporary folder version should be considered the duplicate and so needs to be deleted (marked, moved).
Duplicates Remover for Outlook is fully compatible with:
Microsoft Outlook 2013, 2010, 2007, 2003, 2002/XP;
Microsoft Office 365 with desktop Outlook version;
Microsoft Windows 8, 7, Vista, 2003, XP.
Possible duplicate actions
Mark with a flag — the duplicate will be marked with a flag;
Remove the flag — the flag will be removed;
Move to a folder... — the duplicate found will be moved to the duplicate folder specified below;
Copy to folder... — the duplicate found will be copied to the duplicate folder;
Copy to folder and mark with a flag... — the duplicate will be copied to the duplicate folder and marked with a flag in its current location.
Delete (move to the Deleted Items folder) — the duplicate will be moved to the Deleted Items folder.
Delete permanently — duplicate messages or items will be deleted permanently (bypassing the Deleted Items folder).
Duplicates Remover is one of a number of outlook addons that is fully compatible with Microsoft Exchange Server and may be used to process public folders on server. Also, if you have the permission to connect to folders of other users, you can process folders of other users as well as that of your own folder.
Please, pay your attention that Duplicates Remover can be used with Microsoft Office Outlook only. If you use Outlook Express, look at another MAPILab software - Remove Duplicates from Outlook Express plug-in .
Technical support
The license grants you a right to get new versions and technical support for free during one year. After one year you can continue use installed version of the product without any limitations but if you would like to get technical support or to download new version of the product the license renew is required. To get a status of your license and to renew it please follow the Renew license area on the web-site.
Technical support is provided via e-mail and Tickets system on the web-site.
Download Trial Version
You can download free trial version (5195 KB) of Duplicates Remover for Outlook and test it before purchasing:

Primary Download


Secondary Download
Ordering Information
A trial version of Duplicates Remover for Outlook is fully functional, but there are two limitations:
the Outlook plug-in finds all duplicates but removes only 10 per task performed
the free trial usage period is 30 days
Pricing:
| | |
| --- | --- |
| License type | USD |
| Single user license | 24 |
| 5-Users license | 110 |
| 10-Users license | 190 |
| 25-Users license | 450 |
| 50-Users license | 800 |
| 100-Users license | 1200 |

* If you are interested in purchasing more than 100 users licenses, volume prices are available here.
Frequently Asked Questions about duplicate contacts, duplicate calendar appointments, duplicate journal entries and other duplicate itens in Microsoft Outlook accordingly Duplicate Remover add-in
---
Question: I run Duplicates Remover addin for Outlook and it is not recognizing/removing duplicate Calendar appointments. Is there some special criteria I should be choosing?

Answer: We cannot tell you exactly which criteria set helps in your individual case – running the Outlook add-in, you can see about 30 "properties for comparison" for Calendar items and for Tasks in the list to select (step 5 of 5). By default, they all are checked. And only items with all identical fields will be processed with the default criteria list. You can remove the checkmarks from some fields - and they will be excluded from the duplicate identification process. Please make sure that you have chosen the right item type - Calendar (step 1), mark with a tick all necessary folders (step 3 of 5), then take a good look at the list of criteria (step 5 of 5), Select merely those which matter for you, and proceed.
---
Question: What would be the best way to filter my Outlook Calendar items and remove the same ones?

Answer: Sorting items, or the view does not matter for Outlook Duplicates Remover: if you'd like to examine all existing differences between the items you consider as duplicates, open a couple of them, switch their view to "All Fields", select "All Calendar Fields" – and have a look at both items to compare. Once you note the differences, you can remove the checkmarks from the proper fields in the list of criteria available in the Step 5.
---
Question: I've run the Duplicates Remover for Outlook numerous times. Initially there were approx. 25000 duplicate contacts in Outlook. Now I can see there are still a few, and I can see no obvious reason why they are not being flagged as duplicate. I can open up each individual duplicate record, and they look exactly the same.

Answer: Contact items have a great quantity of fields (and the most of them are not displayed in the regular view – you can see them all merely if you switch to view "All Contacts Fields"). That is why the items which look like duplicates may have differences, so the duplicates remover add-in will ignore them. In the Step 5 of 5 of the add-in wizard, you can see 107 "properties for comparison" for Outlook Contacts in the list to select. There are two critical criteria in the 5th step – Full Name and Email. You can reduce all other criteria and one critical. You can remove the checkmarks from all the fields you do not need to be compared - at least, creation date/time and size will differ in the most of cases.
---
Question: I was wondering if it is possible to run a duplicate check and still be able to access my Outlook inbox as at the moment when I run a duplicate check, I'm prevented from accessing anything else on Outlook?

Answer: Unfortunately, we can not imagine currently any way to let users access Outlook modules while our add-in is searching for duplicates: we designed that modal dialogue so that while duplicate remover add-in is processing duplicates, no other processes interfere with it, to avoid possible conflicts.
---
Question: I am wondering if it is possible to attach your Duplicates Remover to my Outlook, so that it will run automatically when Outlook is started.

Answer: Unfortunately, there is no any option or possibility to automate this process with our Outlook duplicate removers. Our software for processing duplicates in the e-mail client can be launched merely manually - i.e. you will need to follow all wizard steps and check the settings every time before starting processing outlook duplicates. It is a kind of product policy. Automatic, or scheduled modes are impossible with their Outlook add-in.