Mail Merge Toolkit is a powerful add-in for Microsoft Office helping to extend the mail merging capabilities in Microsoft Outlook, Microsoft Word and Microsoft Publisher. It allows you to do the following:
Insert data fields into the message subject, so that not only the contents of a message but also its subject is personalized.
Attach a single file or numerous ones to messages.
To send HTML or RTF messages from Microsoft Word and Microsoft Outlook so that the security system doesn't reject messages and Internet links remain working (some problems with Internet links are already fixed by Office XP Service Pack 2, but not all). In particular, Mail Merge in Microsoft Word provides a higher level of correspondence safety. Mail Merge Toolkit is compatible with all recent versions of the Microsoft Word. So, mail merging in Word 2003, Word 2007 , Word 2010 or Word 2013 isn't a problem any longer!
Send messages to multiple recipients in PDF, HTML and RTF formats directly from Microsoft Word.
Send personalized messages in GIF format from Microsoft Publisher. When sending GIF messages from Microsoft Publisher, HTML-links can be assigned to image areas (image map technology). By using messages in GIF, you can be sure that your recipient will be able to read it within any email client.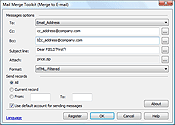 The Mail Merge Toolkit dialogue looks very similar to the standard Microsoft Office box "Merge to Electronic Mail" (see screenshot). In that box, like in the standard one, you can choose the data field containing recipient addresses, set message subject (btw, in Mail Merge Toolkit you can use automatic data field insertion like in a document text), set the format, and choose files to be attached to each message if necessary.
With Mail Merge Toolkit you can use all the features of Microsoft Office for professional mass mailing! Enjoy the easiest and at the same time most effective work with Mail Merge in Word! Being one of the basic text editors nowadays, Microsoft Word is applied by the most of PC users. So, Mail Merge in Microsoft Word is of the paramount importance for every Microsoft Office user!
Actually, there is no use to explain what kind of software product you purchase with us! Our add-in for Microsoft Office will make a process of mail merging as easy as ABC for you! If you work with Microsoft Office every day, you should realize all complexity of drawing up hundreds of likely letters and filling in data fields with the same information! From now on, this is all the matter of the past! All these functions will be automatically accomplished by Mail Merge Toolkit within seconds and with the minimum efforts from your side! As you can see, Mail Merge Toolkit is compatible with all modern versions of Windows and suits for work with all necessary components of Microsoft Office. After acquiring Mail Merge Toolkit with us, you'll forget out and away about past difficulties of the letter writing!
Additional information
Mail merge in ms word 2003, 2007


How to do mail merge in ms word


How to mail merge in microsoft word (2003, XP)

---
Frequently Asked Questions about mail merging add-in for Microsoft Outlook
Question: Every time I try to send a mail merge with a party CC'd it seems to add an additional CC to my mailmerge. Do you know if there is a way to correct this?

Answer: Our Mail Merge Outlook Toolkit software works as follows: according to the number or e-mail addresses in the "To:" field, Mail Merge Toolkit generates personal messages for every single recipient (as many messages as many recipients in the "To:" field), and then, places all those individual messages into Outlook Outbox. I.e. only "To:" field matters for generating single personal message. That means, if your original, "source" message contains addresses in the "CC" or "BCC" field - every message generated for a single "To:"-recipient will contain all these addresses in those secondary fields, so therefore a (blind) copy of every message sent to a single "To:"-recipient will be also sent to the secondary recipients (specified in "CC" and "BCC"). So, if you add e.g. 100 recipients into the "TO:" field, and a recipient into CC - your CC-recipient will get 100 message copies addressed to your 100 TO-recipients. This behaviour is correct. Therefore, we usually strongly recommend our customers to avoid using the "CC" or "BCC" fields if mail merge feature is used.
---
Question: Does Mail Merge Toolkit enable me to send individualized attachments in the mail merge, so that each email contains a different attachment?

Answer: Yes, Mail Merge Outlook Toolkit will help you attach to your personal messages unique attachments to unique recipients (or, also static files if you need). With Mail Merge Toolkit add-in, you can merge fields from different data bases, incl. Excel data files: all the opportunities of the native mail merge in Word are supported by our Mail Merge Toolkit since it is the extension of the regular Office Mail Merge feature. Its option appears in the last 6th step in Word, as an alternative towards the regular "Electronic Mail", if you follow Step by Step Mail Merge Wizard, and enables some additional features there. And you can send personalized attachments with this tool - a sample of such use with the Excel base is illustrated in this flash tutorial.
---
Question: Is there a way to send from a non-primary email address? I sent a test email, but there was no option to change the "From" field before sending.

Answer: Our mail merge tool does not provide any possibility to edit the From field. But if you have several accounts in Outlook, or if you have several mail profiles in your system - Mail Merge Toolkit will display profile or account selection dialogue: if you close Outlook before mailing (and do not use Outlook Contacts as data source) - you will get profile selection prior to account selection. You can test with a separate account, or also with a separate mail profile: http://support.microsoft.com/kb/829918. If you e.g. send through a POP3 account - Outlook will send message with the address specified as sender's address in your POP3 account settings. If you send using some specific Exchange feature (delegate access, or "send as", or "send on behalf") - your Exchange Server analyzes data in the From field, and processes it according to sender's permissions to send as the specified user. Please contact your mail server administrator for more details about usnig these features.