Out of the box, Microsoft Word sends mail merge emails using a default Outlook account and doesn`t offer an option to use different email accounts. This often leads to the common mistake of sending with the wrong email address.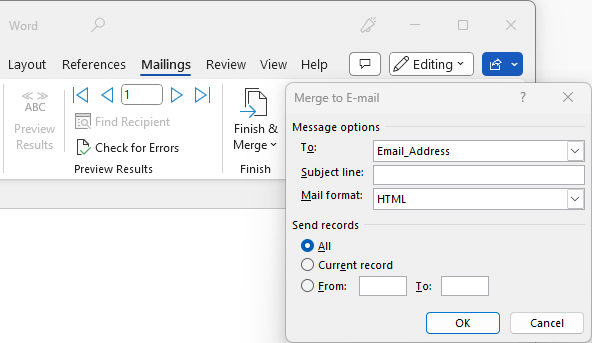 This is where Mail Merge Toolkit comes to the rescue, offering full control over the FROM field:
Before sending messages, you can change the sender, when having multiple Outlook accounts.
Moreover, you can mail merge as someone else if you were delegated Send As or Send on Behalf of another Microsoft 365 or Exchange mailbox permissions.
Mail Merge Using Different Email Account
First, under the Sending Settings tab, enable Outlook email account and profile selection.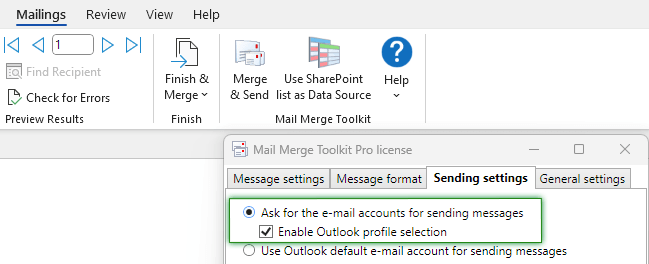 Now, after preparing personalized bulk email messages, and clicking the Send Messages button, you will be offered to choose one of the email accounts configured in Microsoft Outlook. Click under Profile and Choose account to select the outgoing email account.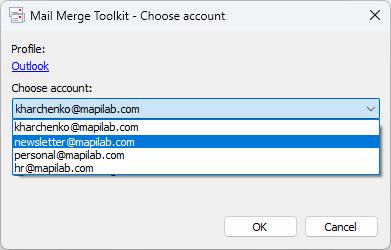 Mail Merge: Send As or On Behalf Of Someone Else
Starting from Mail Merge Toolkit version 6.0, you also can send emails as someone else, if you were delegated permission to Send As or On Behalf Of another mailbox. This feature works with Microsoft 365 and Exchange mailboxes.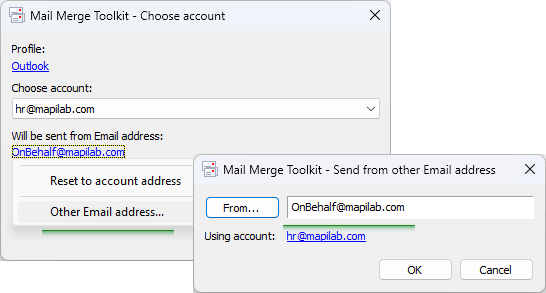 After you select the correct Outlook email account and profile, click the Will be sent form Email address option, Other Email Address, and type in the shared mailbox.
Learn more about other features of Mail Merge Toolkit or download and try it yourself.