These days data privacy and security issues have become a critical part of our life. From this article, you will learn how to prevent unauthorized access to sensitive data sent using Mail Merge Toolkit by securing attachments with a password. It is the commonly used scenario to meet company security policies, GDPR requirements, and so on.
Mail Merge Toolkit is a powerful add-in for Microsoft Office that significantly expands the built-in mass mailing features. It allows you to send attachments, personalize subject lines, select the sender account, use CC/BCC fields and much more. Now it also can encrypt PDF and DOCX documents with a password.
Mail Merge Toolkit: securing PDF and DOCX with passwords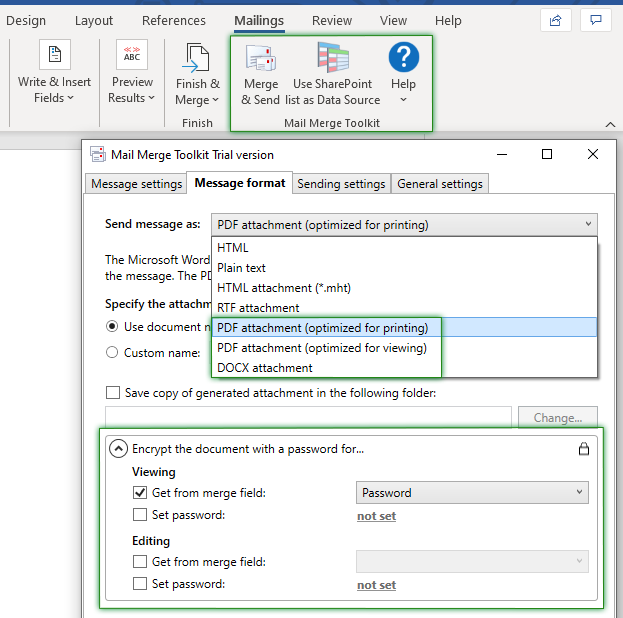 The add-in can retrive individual passwords using a merge field from a datasource. Or you can set the same password for all files manually.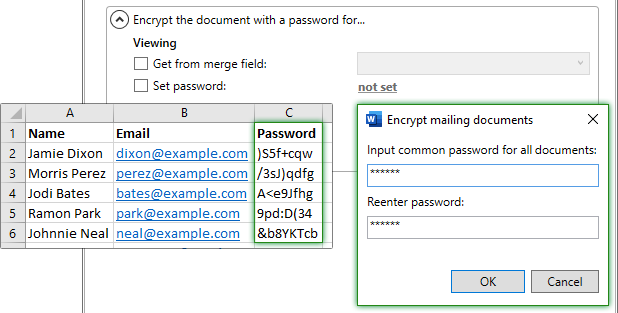 An attachment can have two types of passwords:
Password for viewing, required to open a file.
Password for editing (also known as a permissions or master password) to prevent users from changing PDF and DOCX attachments.
Moreover, when sending PDF attachments, Mail Merge Toolkit allows managing permissions for printing, editing, and copying attachment content. Recipients don't need a password to open the document, but they do need a password to change or remove set restrictions.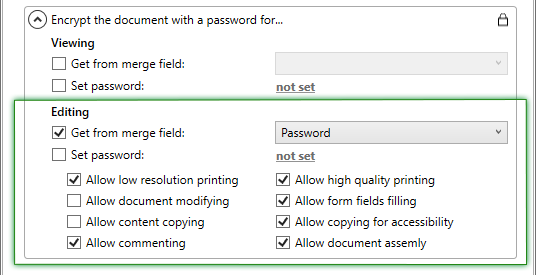 Learn more about other features of Mail Merge Toolkit or download and try it yourself.