Send Personally is the add-in for Microsoft Outlook designed to send individual emails to a great number of recipients via Microsoft Outlook 2013, 2010, 2007, 2003, XP. This add-in for Outlook offers you an alternative method of sending personalized emails from Outlook: separate messages are being created for each recipient. The final recipient will receive no information about any of the other recipients. Moreover, he/she will see only his/her name and address in the "To" field, as if the message is sent to him/her only.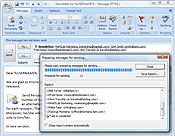 The main problem with sending bulk mail through Outlook is that Outlook shows all the recipients in the message heading. If the recipient list is relatively small, this doesn't result into any considerable inconvenience. However, if a message is sent to hundreds of recipients, its heading size might many times exceed the size of the message text and of any attachments combined.
Therefore, Outlook was not personal email client, until we created the Send Personally programme for it. With our add-in, it it becomes a personalized e-mail program There is no need to explain that the problem of hiding recipient in Outlook is very important for the most of businessmen nowadays!
This add-in for Outlook offers an easy solution for this problem. And you won't need to perform any additional actions. The only thing you will have to do is to press the button "Send Personally" instead of the standard "Send" button.
With Send Personally for Outlook, no special setup procedures are needed: it is ready-to-use right upon installation. You obtain a unique opportunity to send personalized mass email on the most favorable terms. From this moment on, Outlook personalized email message is delivered exclusively to the person it is addressed to.
Send Personally for Outlook is fully compatible with:
Microsoft Outlook 2013, 2010, 2007, 2003, 2002/XP;
Microsoft Office 365 with desktop Outlook version;
Microsoft Windows 8, 7, Vista, 2003, XP.
Add-in can't work with Outlook 2000 when Microsoft Word is used as a message editor. In this case you need to use the standard Outlook message editor.
Program Features:
You can use macros (special expressions automatically replaced by the recipient's personal data when sending a message) in the message text. Using macros, you can insert the recipient's name, e-mail address, as well as the name of the Outlook distribution list containing his/her address at the moment of sending, into a message;
When creating a message, you can choose which addresses should be excluded from the distribution list. To do that, simply create a new Outlook distribution list which name starts with the word "exclude", add the addresses to be excluded into that list, and enter the list name along with the others into the "To" field of the message being created;
This product is an excellent supplement to the other outlook add ons products we offer: e.g. Subscription Manager, allowing you to easily organize your own distribution lists from which users can subscribe to and unsubscribe from themselves by sending e-mail requests. So, Send Personally and Subscription Manager, installed on the one machine can provide for a full-fledged mailing management component.
With all the above, you can be sure that this new innovative Send Personally add-in of Microsoft Outlook is the most effective solution for sending personalized mass email to every single recipient individually. After purchasing this first-class Outlook add-in, you gain a splendid opportunity to send individual emails to the unlimited number of specific receivers with certainly that the addresses of other recipients are hidden. Under present-day conditions, this possibility is of the vital importance undoubtedly. Additionally, this add-in is an ideal part to be used in bundles together with other software we propose. Imagine what advantages you get after buying the fully-licensed version of Send Personally!
Please, pay your attention that this product is for Microsoft Office Outlook only. If you use Outlook Express, look at the other MAPILab software - Send Personally for Outlook Express add-in.
Technical support
The license grants you a right to get new versions and technical support for free during one year. After one year you can continue use installed version of the product without any limitations but if you would like to get technical support or to download new version of the product the license renew is required. To get a status of your license and to renew it please follow the Renew license area on the web-site.
Technical support is provided via e-mail and Tickets system on the web-site.
Download Trial Version
You can download free trial version (4607 KB) of Send Personally and test it before purchasing:

Primary Download


Secondary Download
Ordering Information
The trial version of Send Personally is fully functional, but there are two limitations:

the number of addresses a message is sent to using Send Personally cannot exceed 100;
free trial usage period is 20 days.
If you would like to use this software after the 20 days evaluation period a registration is required. You can order the fully licensed version of Send Personally over the Internet with any major credit card.

Pricing:
| | |
| --- | --- |
| License type | USD |
| Single user license | 24 |
| 5-Users license | 110 |
| 10-Users license | 190 |
| 25-Users license | 450 |
| 50-Users license | 800 |
| 100-Users license | 1200 |

* If you are interested in purchasing more than 100 users licenses, volume prices are available here.
Click here to purchase the fully licensed version of Send Personally.
---
Additional information
Sending personalized emails Outlook


Send personal emails


Personalized mass email Outlook


Customized mass email

---
Frequently Asked Questions about personalized mailing add-in for Microsoft Outlook
Question: I'm interested in purchasing Send Personally, but before doing so I need to clarify a problem that occurred while using the trial version. It did not pull the first names out of my Outlook contacts - and used the portion of the email address before the @ sign. That meant that, although I could send each person a separate message, I could not greet them by name.

Answer: The data to replace "name" macros is retrieved by Send Personally from the "To" field. The %USERFIRSTNAME% and %USERLASTNAME% macros can be processed correctly if recipients' data in the To field looks like: Firstname Lastname
This recipient data format corresponds to the international production standard (RFC 822 IS). If only e-mail address can be obtained from the To field - Send Personally processes the whole portion before @. And therefore, both %USERFIRSTNAME% and %USERLASTNAME%, and also %USERNAME% are replaced with the same data in your messages. If you use Outlook Contacts - recipient's data is retrieved from the "Display as" contact field.
---
Question: Macros in Send Personally are not working: they are not replaced and appear as the words: %USERFIRSTNAME%, %USERLASTNAME%, and %USEREMAIL%.

Answer: Please check the source of your message - an issue is known with the spell-check tool which corrupts the macros by inserting formatting tags into the macros between the percent signs. And if that is the case - please add the words "USERFIRSTNAME", "USERLASTNAME", and "USEREMAIL", to the dictionary of your spell-checker – and make sure your macros are not underlined before you start sending messages. Upon replacing macro with the name, our Send Personally searches exactly for %USERFIRSTNAME% with the percent signs before and after the word, and obviously fails to locate it in your messages due to changes made by the spell-checker.
---
Question: I sent an email list of over 1000 addresses a small PDF using Send Personally. The emails however are queuing in the outbox and not being sent.

Answer: The registered Send Personally add-in version doesn't impose any limitation to the number of messages: it generates as many messages as many recipients are there in the To field - and places them all into "Outbox", and here, the operating zone of the add-in is finished, all the messages should be sent by Outlook after that. If you have ever experienced any trouble while performing large mailing - probably, sending a large number of messages during a short time interval is limited by your mail server settings. Please contact your Internet Service Provider (or, network administrator) in order to clear this issue up.