PDF attachments and message body text in Mail Merge Toolkit for Outlook
We received recently several requests from our users, about sending messages as PDF attachments in Mail Merge Toolkit, and typing the text for the message body – so, we will answer them in our blog for all our customers who are interested in using this efficient feature.
Question:
When I use this on my Word 2016 it asks me to type my message in a "Message Body" box after I do the step of adding the attachment. Why does it ask me to do that when I've already typed it into the main doc??
Six different message formats:
Mail Merge Toolkit offers you 6 different message formats: with "HTML, Filtered" and "Plain Text", your main document text will be inserted into your message body the regular way, like if you create new message in Outlook;
with 4 "Attachment" formats, your main document will be converted to file and attached to the message: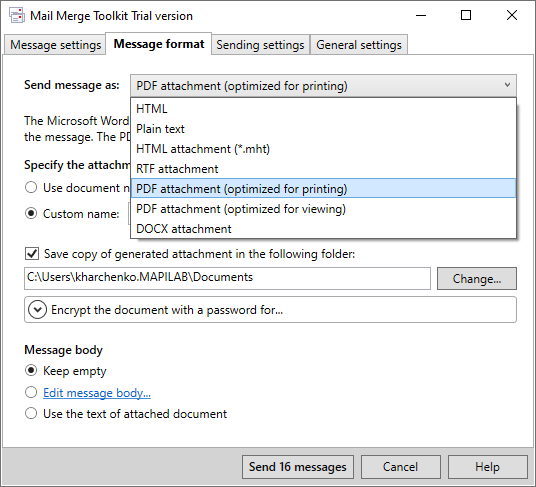 If you select "HTML/RTF/PDF Attachment" as the message format in the Mail Merge Toolkit settings, your main Word document will be converted to a file, and attached to each outgoing personal message as personal separate file (and the same for Publisher projects).
"Message body" dialog box
And if you select "PDF etc. Attachment" as your message format, you will also get a new dialogue in the next step – "Message body": you can type there the text of your message body – otherwise, your e-mail with the individual attached message will be sent with the blank e-mail body: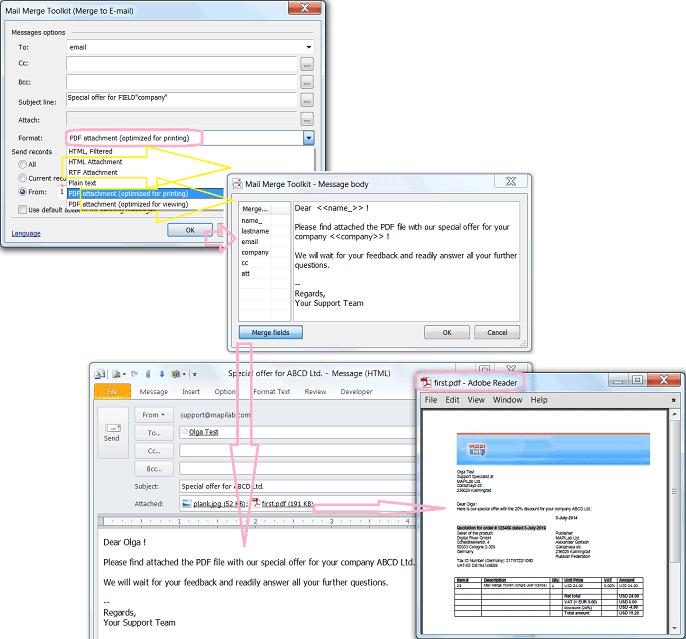 Originally, that "Message body" box supported merely plain text and macros (Merge data fields), but later, we also added support for images and other graphic objects – your message body can look now like your regular message, with pictures, tables and formatted text.
And together with the attached message file, you can also attach regular files to your mail.
Question:
When sending a customized PDF attachment, a box opens to input the email message body with optional mail merge fields. This message always seems to be in HTML format. Is there a way to change it to the other formats, such as plain text or RTF?
HTML is the only supported message format if you send your main document content attached as PDF, RTF, or HTML file. We started using it, because this format is universal and supported by all e-mail systems and clients.
You are welcome to watch the short video, that shows the Mail Merge Toolkit PDF feature in details:
Using this efficient feature, you can send personalized documents, orders and invoices in PDF format within a single mailing: just design your document or publication, add fields from your database to your message – and Mail Merge Toolkit will generate and send messages with individual nice-looking PDF attachments to your recipients!