27 May 2014
Mail Merge Toolkit has been updated!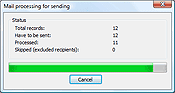 Meet a new version of Mail Merge Toolkit (v.2.6.4) - our outstanding Microsoft Office add-in that extends mail merging capabilities in Outlook, Word, Publisher and significantly expands the possibility of personalized mailing with Office applications. The add-in allows to insert required data into subject fields directly, add various attachments, send emails in different formats, hide recipient list and many other.
In a new version:
Compatibility with Microsoft Office 2013 Service Pack 1 (KB2817430) is added.
New feature: you can use a separate template in the message body if selecting message formats like: "HTML Attachment", "RTF Attachment", "PDF Attachment" (in previous versions, message text was sent in the attachment, and message body was empty).
An issue with incorrect displaying specific local characters is fixed.
The method of sending messages with attachment is optimized.
You are welcome to download the latest version of the product at the Mail Merge Toolkit homepage.
We are also would like to announce a strongly related article in our blog - Mailing with Outlook: How to hide mail recipients - it describes mailing hints which become available with our add-ins for personalized mailing - Mail Merge Toolkit and Send Personally.
News list