18 September 2008
The MAPILab company is going to take part in ISDEF 2008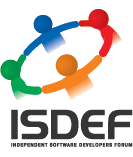 The MAPILab company is going to take part in ISDEF (Independent Software Developers Forum) 2008 - the seventh international conference devoted to software development and marketing issues. This year's conference will take place on September 26-28, 2008 at the Holiday Inn Vinogradovo in Moscow.
The event will focus on the analysis of the international software market and the issues that IT companies currently face. The owners, top managers and leading professionals from various IT and Internet companies will be attending along with the marketing experts, journalists, consultants and representatives of Western and Russian investment funds and PR agencies.
The conference program can be found here.
Alexander Gorlach, MAPILab President, and Oksana Matveeva, CEO Marketing will be happy to meet you at the conference and discuss the possibility of the cooperation. If you would like to make an appointment with them in advance, please contact Oksana Matveeva at matveeva@mapilab.com.
News list