24 November 2006
MAPILab - Microsoft Tech•Ed: IT-Forum exhibitor 2006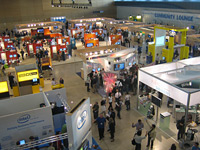 The MAPILab company participated in the annual Microsoft TechEd:IT-Forum that took place on November 14-17, 2006 in Barcelona, Spain. This year's event brought together over 4,700 IT pro's who benefited a lot from a week packed with previews of the latest tools, demos and hands-on training.
MAPILab's President Alexander Gorlach comments: "It is the fourth Microsoft conference the MAPILab company has exhibited its products. Participation in the events hosted by Microsoft is very important for us. All Microsoft conferences or forums are characterized by perfect organization, highly competent participants and friendly atmosphere. In Barcelona the MAPILab company got an excellent chance to showcase its newest products as well as to meet the leading professionals in IT-business."
The MAPILab company would like to thank QBS Software, UK – one of our main resellers - for the invitation to share a booth with its team. We greatly appreciate our co-operation in the past and hope it continues to be mutually beneficial in the future!
Thank you to all the participants and guests of the Forum who visited our stand!
You can view photos from the Microsoft TechEd:IT-Forum 2006.
News list