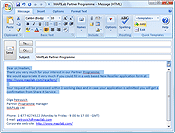 Quick Templates is an add-in for Outlook designed for fast insertion of text templates into Microsoft Outlook 2013, 2010, 2007, 2003, 2002 (XP) mail messages. This Outlook add-in will help you with entering frequently repeated text fragments, save the time you spend on message writing, and so help with decreasing the number of misprints in your messages. Quick Templates is a very useful tool for Outlook for technical support officers, sales personnel and anyone who makes an extensive use of e-mail in their work.
You will have to write and format your text only once and then you can insert it in mail messages of any type (HTML, RTF, plain text) repeatedly. This outlook plugin keeps all the text parameters and formatting unchanged, which allows you to create lots of various headings, signatures, phrases, or any other text blocks, lines, or words you use frequently in your correspondence.
With Quick Templates you can create a template list and insert the text from template into a message with a single mouse click or through a hotkey you can set for each template individually.
Quick Templates for Outlook is fully compatible with:
Microsoft Outlook 2013, 2010, 2007, 2003, 2002/XP;
Microsoft Office 365 with desktop Outlook version;
Microsoft Windows 8, 7, Vista, 2003, XP.
A unique offer: get a version of Quick Templates for Outlook
free of charge!
We are happy to offer you an excellent opportunity to get Quick Templates for Outlook free of charge if you take part in testing or purchasing the products and services of our partners.
This scheme is very simple: go to the stores of our partner sellers, offering you a comprehensive range of useful goods and services, through this offer at the MAPILab website. As a result our partner sellers pay for Quick Templates for Outlook, and you get a registered version free of charge, along with buying a necessary product or service (20-40 different offers are usually available).
Go to find and buy what you need, and get a powerful and useful MAPILab add-in for Microsoft Outlook FREE OF CHARGE!
Program Features:
add an unlimited number of templates with the formatting kept;
create a template from selected text fragments;
create a template with the simple template editor;
template copying, deleting, and renaming;
adding a template and setting a name for it without opening the template content edit dialogue;
opening the full template list by clicking the "Win + Q" buttons, alphabetical search through it, and new template insertion;
assigning individual hotkey combinations "Ctrl + Win + alphabethical_symbol" for each template;
interface supports two languages: English and German
Technical support
The license grants you a right to get new versions and technical support for free during one year. After one year you can continue use installed version of the product without any limitations but if you would like to get technical support or to download new version of the product the license renew is required. To get a status of your license and to renew it please follow the Renew license area on the web-site.
Technical support is provided via e-mail and Tickets system on the web-site.
Download Trial Version
You can download free trial version (7320 KB) of Quick Templates for Outlook and test it before purchasing:

Primary Download


Secondary Download
Ordering Information
Quick Templates for Outlook is shareware. If you would like to use this software after the 20 days evaluation period a registration is required. You can order the fully licensed version of Quick Templates for Outlook over the Internet with any major credit card.
Pricing:
| | |
| --- | --- |
| License type | USD |
| Single user license | 24 |
| 5-Users license | 110 |
| 10-Users license | 190 |
| 25-Users license | 450 |
| 50-Users license | 800 |
| 100-Users license | 1200 |

* If you are interested in purchasing more than 100 users licenses, volume prices are available here.