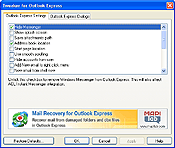 Tweaker for Outlook Express is a freeware product. It enables you to expand opportunities of Outlook Express and clean some lacks. Friendly interface Tweaker for Outlook Express is absolutely clear even for the unsophisticated user and allows applying it in operation easily. The changes that you do by this product can be restored by using "Restore Defaults..." button.
Program Features:
Tweaker for Outlook Express allows you to:
hide "MSN Messenger" in Outlook Express menu.
turn off the Outlook Express splash screen.
change the path where message attachments are stores.
change the path where Address Book is stored.
change the Outlook Express start page location.
use smooth message scrolling.
hide the Accounts Settings dialog from menu (to protect it from the changes)
block executable attachments to protect you from the viruses.
hide or show the attached images at the bottom of the message.
change the Windows title for the dialogs of Outlook Express.
change the small animation logos in Outlook Express and Internet Explorer.
change the indent character from " -> " to other when you reply the message.
change the database location for messages and news.
hide "Hotmail" tab from menu "Tools" -> "New Account Signup".
Technical support
The license grants you a right to get new versions and technical support for free during one year. After one year you can continue use installed version of the product without any limitations but if you would like to get technical support or to download new version of the product the license renew is required. To get a status of your license and to renew it please follow the Renew license area on the web-site.
Technical support is provided via e-mail and Tickets system on the web-site.
Download Full Version
You can download full version (1503 KB) of Tweaker for Outlook Express:

Primary Download


Secondary Download
Ordering Information
Tweaker for Outlook Express is free for commercial and non-commercial use.