E-mail Follow-Up is an add-in for Microsoft Outlook that allows (and reminds you!) to send follow-up e-mail messages if a reply has not been received within a specified time-frame. E-mail Follow-Up will watch for messages and show an alert when a reply has not been sent. This add-in for Outlook also allows you to send a follow up message using a predefined template to remind the recipient that the reply hasn't been sent.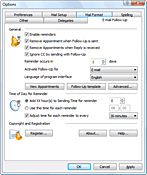 "I wrote to them and they didn't answer!" - this is a typical ending for many negotiations though the result could have been different if the message had been noted in time and resent or maybe even followed up with a telephone call.
Now E-mail Follow-Up will follow up the messages left without a reply instead of you, and not only remind you about such messages but offer you to send a Follow-Up template message to remind the user that a reply hasn't been received yet.
This outlook add on adds two buttons: "Follow-Up" and "Custom" into the toolbar of Message Editor (click the button "New e-mail message"). Using these two buttons to send a message the message can be considered to be under control. In the first case you use the default time waiting settings for the reply and the criteria according to which the program should identify the incoming message as a reply. In the second case you can adjust these settings for each message sent on an individual basis.
E-mail Follow-Up is fully compatible with:
Microsoft Outlook 2013, 2010, 2007, 2003, 2002/XP;
Microsoft Office 365 with desktop Outlook version;
Microsoft Windows 8, 7, Vista, 2003, XP.
A unique offer: get a version of E-mail Follow-Up
free of charge!
We are happy to offer you an excellent opportunity to get E-mail Follow-Up free of charge if you take part in testing or purchasing the products and services of our partners.
This scheme is very simple: go to the stores of our partner sellers, offering you a comprehensive range of useful goods and services, through this offer at the MAPILab website. As a result our partner sellers pay for E-mail Follow-Up, and you get a registered version free of charge, along with buying a necessary product or service (20-40 different offers are usually available).
Go to find and buy what you need, and get a powerful and useful MAPILab add-in for Microsoft Outlook FREE OF CHARGE!
Technical support
The license grants you a right to get new versions and technical support for free during one year. After one year you can continue use installed version of the product without any limitations but if you would like to get technical support or to download new version of the product the license renew is required. To get a status of your license and to renew it please follow the Renew license area on the web-site.
Technical support is provided via e-mail and Tickets system on the web-site.
Download Trial Version
You can download free trial version (5515 KB) of E-mail Follow-Up and test it before purchasing:

Primary Download


Secondary Download
Ordering Information
A trial version of E-mail Follow-Up has no limitations. But if you would like to use this software after the 20 days evaluation period a registration is required. You can order the fully licensed version of E-mail Follow-Up over the Internet with any major credit card.
Pricing:
| | |
| --- | --- |
| License type | USD |
| Single user license | 24 |
| 5-Users license | 110 |
| 10-Users license | 190 |
| 25-Users license | 450 |
| 50-Users license | 800 |
| 100-Users license | 1200 |

* If you are interested in purchasing more than 100 users licenses, volume prices are available here.