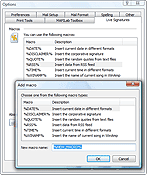 Live Signatures is an easy and handy add-in for Microsoft Outlook for automatic substitution of actual data in outgoing messages. A wide set of macros will allow you to automatically insert text into E-mails from other messages or local files, use changeable/variable signatures in the messages, enrich the messages with the statements of famous people (or your own expressions). Because of the macros system, you can insert auto-text or signatures only in the necessary messages, or also in all messages, if the macro Live Signatures is added to the signatures of Microsoft Outlook. Moreover, this add-in for Outlook gives a possibility to enhance the number of macros by creating or linking them up.
Functions of Live Signatures are not restricted to simple adding of a corporate signature to the messages. On the basis of Live Signatures you can organize automated mailing of company news, sending automatically created journals of program operations, weekly sending of price-lists or reports. With the help of Live Signatures the variable data can be sent by mail or used in the email signatures without making any changes during the message creation.
Live Signatures is fully compatible with:
Microsoft Outlook 2013, 2010, 2007, 2003, 2002/XP;
Microsoft Office 365 with desktop Outlook version;
Microsoft Windows 8, 7, Vista, 2003, XP.
This Outlook add on doesn't replace the built-in templates for signatures in Microsoft Outlook, it extends their functionality and makes them live: you can modify your current signature templates in Microsoft Outlook by adding new macros from Live Signatures.
Live Signatures works with all types of Microsoft Outlook message editors and supports all message formats (HTML, Plain Text, RTF). Any message in Microsoft Outlook (including message in public folders of Microsoft Exchange Server) and file saved locally or in the public folder can be used as a data source.
List of macros
Currently, Live Signatures contains the following macro types:
| | | |
| --- | --- | --- |
| %RSS% | — | Enables you to include data from the RSS feed in your email. |
| | | |
| %DISCLAIMER% | — | Allows adding data into a message from a file or E-mail. Look at the example of component use. |
|   |   |   |
| %TIME% | — | Allows adding the current time into the message. |
| %DATE% | — | Allows adding the current date in the message. |
| %QUOTE% | — | Allows adding a randomly chosen quote to a message from a data file. Look at the example of component use. |
| %WINAMP% | — | Allows adding a name of the currently played track in WinAmp (or other player on its basis) into the message. |
Later on, this list can be extended by adding new macros types that can be created by the program user as well as by our company. Because of such extensibility of Live Signatures, other scenarios different from the simple text substitution are possible.
Live Signatures is an add-in for Microsoft Outlook. For centralized management of signatures and disclaimers in Microsoft Exchange, please try another MAPILab software title — a MAPILab Disclaimers for Exchange.
A unique offer: get a version of Live Signatures
free of charge!
We are happy to offer you an excellent opportunity to get Live Signatures free of charge if you take part in testing or purchasing the products and services of our partners.
This scheme is very simple: go to the stores of our partner sellers, offering you a comprehensive range of useful goods and services, through this offer at the MAPILab website. As a result our partner sellers pay for Live Signatures, and you get a registered version free of charge, along with buying a necessary product or service (20-40 different offers are usually available).
Go to find and buy what you need, and get a powerful and useful MAPILab add-in for Microsoft Outlook FREE OF CHARGE!
Technical support
The license grants you a right to get new versions and technical support for free during one year. After one year you can continue use installed version of the product without any limitations but if you would like to get technical support or to download new version of the product the license renew is required. To get a status of your license and to renew it please follow the Renew license area on the web-site.
Technical support is provided via e-mail and Tickets system on the web-site.
Download Trial Version
You can download free trial version (4478 KB) of Live Signatures and test it before purchasing:

Primary Download


Secondary Download
Ordering Information
Trial version of Live Signatures has no limitations. But if you would like to use this software after the 30 days evaluation period a registration is required. You can order the fully licensed version of Live Signatures over the Internet with any major credit card or offline.
Pricing:
| | |
| --- | --- |
| License type | USD |
| Single user license | 24 |
| 5-users license | 110 |
| 10-users license | 190 |
| 25-users license | 450 |
| 50-users license | 800 |
| 100-users license | 1200 |

* If you are interested in purchasing more than 100 users licenses, volume prices are available here.