MAPILab NNTP for Outlook

Current version: 1.50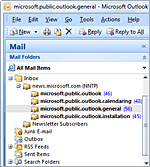 MAPILab NNTP is an add-in for Microsoft Outlook that allows you to read and post messages to newsgroups from Microsoft Outlook 2007, 2003 and 2002/XP. Microsoft Outlook users till now have had no opportunity to work with newsgroups unless Microsoft Exchange Server was installed in the corporate network, so one had to use an external application to work with the news, most typically Outlook Express.
The program interface is very similar to Outlook Express, so we hope you won't have any problems with switching to news handling with Microsoft Outlook. Now you can use the full potential and power of "big" Microsoft Outlook while working with the news!
Program Features:
True MAPI transport
MAPILab NNTP is not just an add-in for Outlook; it is a fully-functional NNTP transport for the basic Microsoft Outlook subsystem - MAPI. This means that a news server account works in the same way as an account for Microsoft Exchange Server or a POP3/SMTP account. You can add a news server account into a standard Send/Receive group to have the news downloaded along with mail messages by a single click, or you can create a separate group and use the Outlook's scheduler to configure the message downloading from news servers on a schedule.
Since MAPILab NNTP is a MAPI transport, it supports headers handling. So, you can download message headers only, select the messages you want to receive and download desired messages only.
Full support of MIME, RTF and HTML
This add-in for Outlook supports all mail formats and encodings which are supported by Outlook. Therefore an Outlook Express user will always see his/her message just as you see it, and downloaded HTML messages will look the same both in Outlook Express and Microsoft Outlook.
You can store newsgroups in public folders, e.g. on Microsoft Exchange Server. This will provide for full access to newsgroups, including message posting, for you and your co-workers, and at the same time messages will be downloaded to a public folder from the news server only once.
Free trial
You can download a free trial version which have no limitations during 30 days trial period! So, you can test all microsoft outlook add ins fully before buying.
Multilingual
Program has English, German and Russian interfaces and help files.
Latest posts in company's blog

---

Mail Merge in Word 2003
Office 2003 is now officially no longer supported by its parent, but, despite this fact, and despite it being somewhat outdated both interface-, security- and feature-wise, many people who still own the license use it and prefer it...>>

How to insert your HTML into an email message and stop Outlook from messing it up
One case is using Microsoft Outlook to send HTML-formatted emails. "But Outlook allows me to create HTML-formatted messages" you might say, and you would be 100% right. But as soon as you try to create an HTML message...>>

File Send Automatically - what is it and how can be used?
It's nice when you can auto-send emails in Outlook to automate the routine of manually sending recipients a file which has been updated recently: a price, a periodic report, or a list of some kind – these items...

Outlook 2013 Attachments Reminder under the hood
Since the 2013 version, Microsoft Outlook users have had the option to activate automatic attachments reminder concerning message where attachments may have been forgotten. Our specialists are working to figure out how it works...

Mail merge from Excel spreadsheet data
A brief overview of how to prepare and use Excel mail merge source files and also dwell on a few extra features of mail merge from Excel performed through Mail Merge Toolkit add-in.