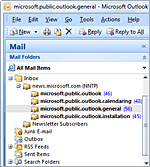 MAPILab NNTP is an add-in for Microsoft Outlook that allows you to read and post messages to newsgroups from Microsoft Outlook 2007, 2003 and 2002/XP. Microsoft Outlook users till now have had no opportunity to work with newsgroups unless Microsoft Exchange Server was installed in the corporate network, so one had to use an external application to work with the news, most typically Outlook Express.
The program interface is very similar to Outlook Express, so we hope you won't have any problems with switching to news handling with Microsoft Outlook. Now you can use the full potential and power of "big" Microsoft Outlook while working with the news!
MAPILab NNTP for Outlook is fully compatible with:
Microsoft Outlook 2007, 2003, 2002/XP;
Microsoft Office 365 with desktop Outlook 2007;
Microsoft Windows 7, Vista, 2003, XP.
A unique offer: get a version of MAPILab NNTP for Outlook
free of charge!
We are happy to offer you an excellent opportunity to get MAPILab NNTP for Outlook free of charge if you take part in testing or purchasing the products and services of our partners.
This scheme is very simple: go to the stores of our partner sellers, offering you a comprehensive range of useful goods and services, through this offer at the MAPILab website. As a result our partner sellers pay for MAPILab NNTP for Outlook, and you get a registered version free of charge, along with buying a necessary product or service (20-40 different offers are usually available).
Go to find and buy what you need, and get a powerful and useful MAPILab add-in for Microsoft Outlook FREE OF CHARGE!
Program Features:
True MAPI transport
MAPILab NNTP is not just an add-in for Outlook; it is a fully-functional NNTP transport for the basic Microsoft Outlook subsystem - MAPI. This means that a news server account works in the same way as an account for Microsoft Exchange Server or a POP3/SMTP account. You can add a news server account into a standard Send/Receive group to have the news downloaded along with mail messages by a single click, or you can create a separate group and use the Outlook's scheduler to configure the message downloading from news servers on a schedule.
Since MAPILab NNTP is a MAPI transport, it supports headers handling. So, you can download message headers only, select the messages you want to receive and download desired messages only.
Full support of MIME, RTF and HTML
This add-in for Outlook supports all mail formats and encodings which are supported by Outlook. Therefore an Outlook Express user will always see his/her message just as you see it, and downloaded HTML messages will look the same both in Outlook Express and Microsoft Outlook.
You can store newsgroups in public folders, e.g. on Microsoft Exchange Server. This will provide for full access to newsgroups, including message posting, for you and your co-workers, and at the same time messages will be downloaded to a public folder from the news server only once.
Free trial
You can download a free trial version which have no limitations during 30 days trial period! So, you can test all microsoft outlook add ins fully before buying.
Multilingual
Program has English, German and Russian interfaces and help files.
Technical support
The license grants you a right to get new versions and technical support for free during one year. After one year you can continue use installed version of the product without any limitations but if you would like to get technical support or to download new version of the product the license renew is required. To get a status of your license and to renew it please follow the Renew license area on the web-site.
Technical support is provided via e-mail and Tickets system on the web-site.
Download Trial Version
You can download free trial version (5191 KB) of MAPILab NNTP for Outlook and test it before purchasing:

Primary Download


Secondary Download
Ordering Information
A trial version of MAPILab NNTP for Outlook has no limitations. But if you would like to use this software after the 30 days evaluation period a registration is required. You can order the fully licensed version of MAPILab NNTP for Outlook over the Internet with any major credit card.
Pricing:
| | |
| --- | --- |
| License type | USD |
| Single user license | 24 |
| 5-Users license | 110 |
| 10-Users license | 190 |
| 25-Users license | 450 |
| 50-Users license | 800 |
| 100-Users license | 1200 |

* If you are interested in purchasing more than 100 users licenses, volume prices are available here.
Click here to purchase the fully licensed version of MAPILab NNTP for Outlook.