Actual Contacts for Outlook

Current version: 2.4.2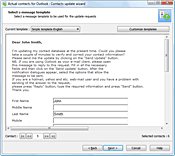 Actual Contacts for Outlook is an add-in for updating your address book and monitoring validity of e-mail addresses in contacts. Select the contacts you would like to update, and add-in for Oulook will send a message containing a special form to these addresses. The respondents will be able to update their data in your address book by filling in this form. This add-in for Outlook is also able to check your address-book. It takes it a few minutes to inform you about the contacts that contain invalid email addresses. Actual Contacts for Outlook also supports validation of the recipient list in Mail Merge Mode in Microsoft Outlook and Microsoft Word (a mail merge function is prerequisite for version 2002 or later ones). In order to check an address, add-in for Outlook imitates sending a message to this address. When the server confirms or doesn't confirm the existence of this address, the program cancels message sending and finishes the session correctly. So, address verification is technically correct and cannot be noticed by the address owner. Now Actual Contacts for Outlook has the full functionality of Contacts Verifier add-in which was earlier offered as a separate tool for Outlook.
Tasks that can be solved with Actual Contacts for Outlook:
Updating your contacts. This is the main purpose of the program. To do it, just specify parameters and send the update request.
Collecting additional information. It often happens that new contacts are acquired during after exhibitions and seminars where you may only have managed to note their names and e-mail addresses. This outlook plugin will help you to collect the missing information quite easily!
Simple surveys. Customizable templates (with different fields included in the form) make the program a simple to use information tool.
Updating your contact information in your respondents' address books. You can add information about yourself in the VCard format to your update request. Almost all e-mail clients and mobile devices can import this information into their contact lists.
Program Features:
Compatibility. A standart message with an HTML form based on the contact's field entries is sent to the contact's e-mail address. If the e-mail client of your respondent supports HTML, he or she can correct his/her information in the fields of the form and send it back. It does not matter whether your respondent works with Microsoft Windows, Linux or Macintosh operating systems - only the old text e-mail clients do not support HTML.
No need for the Internet! You and your respondent do not need access to the Internet, but only access to e-mail. This is important if you work with organizations that limit access to the Internet for security reasons.
Privacy. No information is sent to MAPILab or any other company. The entire contact update process is an exchange of messages between you and your respondent only.
User Testimonials

This is one of the few times i really enjoyed using an outlook plug-in, and probably one of the best plug-ins ever made for outlook. I have a huge list of contacts and a lot of them were outdated and missing big chunks of info, by using Actual Contacts it was a very painless process for me and my contacts to update the info. I only used the trial version of the product and I am very pleased with the results, I don't know who is going to ready this testimony but I would recommend this plug-in to any outlook user and I would really like to thank the people at MAPIlab for their excellent work on this product.

Ahmed Fathi
ADCB



Read more testimonials

Leave your testimonial
Latest posts in company's blog
---
Distribution of mass email in Outlook

If you use Microsoft Office for business purposes and your responsibilities include frequent communication with partners and customers, sending mass email from Outlook may be a part of your daily or, at least, weekly or monthly routine. Within the organization, mass email with Outlook...

How to insert your HTML into an email message and stop Outlook from messing it up


One case is using Microsoft Outlook to send HTML-formatted emails. "But Outlook allows me to create HTML-formatted messages" you might say, and you would be 100% right. But as soon as you try to create an HTML message...