Does your organization use Microsoft Outlook but not Microsoft Exchange Server? How can you provide employees with shared access to critical folders in Microsoft Outlook: messages, contacts, tasks, calendar, and notices?
We have created MAPILab Groupware Server – the ideal solution for Outlook sharing.

MAPILab Groupware Server provides shared access to workers in real time to all types of Microsoft Outlook folders, and also allows management of access rights to these folders.
MAPILab Groupware Server is fully compatible with Microsoft Outlook 2007, 2003, 2002/XP, 2000. See the Technical Details page for additional infornation.
How does it work?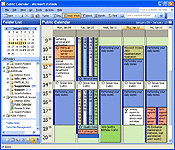 Imagine the task list of your marketing department for the coming month. This plan has been presented in a general meeting and confirmed by management. A copy of the plan has been sent to everyone in the marketing department by email, for example, as a text file. In this case, evaluating completed points of the plan can only happen in daily or weekly meetings, where each person reports about the status of his current tasks.
Can work with this plan be more effective? Can management receive information about task status at the present moment?
Create a plan in Microsoft Outlook's calendar format. Install MAPILab Groupware Server. The department head's computer will function as the server for this process (this will not slow down the performance of this computer), and the other team members can access this server as clients. Place the calendar in the MAPILab Groupware Server section of Microsoft Outlook on the department head's computer, and designate access rights for team members.
Now any team member can not only get access to the work plan, but can also comment on accomplished work, problems which have arisen, or additional resources which may be required. The real situation at any given moment can be evaluated by all team members and monitored by the department head.
We have given an example of using a shared calendar in Microsoft Outlook for the organization of group work. But MAPILab Groupware Server can supply shared access to several elements of Microsoft Outlook:
Shared message folders:
Suppose you have two sales managers, both work with incoming email messages and have their own address: sales_manager1@company.com and sales_manager2@company.com. With MAPILab Groupware Server installed, a common folder for incoming mail with ONE email address, like sales@company.com, can be created with access given not only to the two sales managers, but also to the head of the sales department. The result: one convenient email address, complete transparency to all relevant parties, monitoring by management of the content and/or the reaction time for responses.
Shared contacts:
You have dozens of suppliers and several managers, each working with different groups of suppliers. MAPILab Groupware Server is installed and a shared contact folder is created, with contact information for all suppliers allowing a new manager or other authorized employee to get any necessary information about any of the suppliers.
Shared tasks:
A situation analogous to the shared calendar above: imagine your work plan as a list of tasks for individual employees with shared access to a folder with those tasks, using MAPILab Groupware Server.
Shared notes:
A shared notes folders based on MAPILab Groupware Server allows all users to post and read notes. For example, informal announcements about parties, company recreational events, etc.
MAPILab Groupware Server features
A server part of the software can be installed on any user's computer with administrator rights given to one or more users. Installation and set-up is simple and intuitive.
From the employee's standpoint, a folder in MAPILab Groupware Server looks like a shared folder of Microsoft Outlook and acts exactly like a folder in Microsoft Exchange Server: at the exact moment that someone creates a new element in the folder, it is visible in the user's Microsoft Outlook folder.
Like the connection between Microsoft Outlook and Microsoft Exchange Serve, the connection between Microsoft Outlook and MAPILab Groupware Server works according to the MAPI protocol. This insures that clients work together in real time.
Importing domains and local users. There is no need to add each new user or client separately, rather, they can be imported from the Active Directory and the users can connect to the server using their names and passwords for the domain.
Why MAPILab Groupware Server?
Reason No. 1 – profitability! We have positioned this solution as a useful and affordable tool for the segment of small and medium-sized organizations and subdivisions of large companies. Let's make a calculation!
Microsoft Exchange Server, in its most economical form, involves installing Small Business Server (SBS) Standard Edition. For an organization of 25 employees (assuming that all of them need access to these folders) the cost of licenses (SBS itself and licenses to access to it) will cost around 2500 dollars. Add the cost of hardware – about 2000 dollars. Then around 1000 dollars (depending on the cost of such services in your country) for installation and set-up on your company network. In total – 5500 dollars. Add to that figure ongoing cost of maintenance (training for your network administrator or paying an outside specialist).
In addition to the above, for small organizations who have their own email systems (an email server with Microsoft Outlook as the email client), on top of the expenses incurred, the functionality of Small Business Server Standard Edition (Microsoft® Windows® Server 2003; Microsoft® Windows SharePoint® Services; Microsoft Exchange Server 2003; Microsoft Windows Server Update Services; Microsoft Shared Fax Service) may be otherwise superfluous for the organization.
Licensing for MAPILab Groupware Server is free! You pay only for the number of access licenses to the server. The cost of licenses for 25 client-server connection is 850 dollars. Virtually any advanced PC user can install the product (on any work station—a dedicated server isn't necessary!), set access rights and perform further maintenance.
So, the reasons for using MAPILab Groupware Server are:
Purchase and installation costs 6 times less than a traditional solution;
Ease of installation and set-up;
Everything needed for fully functional group work in an organization is present in MGS;
Free technical support (for 1 year), included in the licensing fee;
The 30-day demonstration period allows you to test the product yourself and evaluate all the advantages before making a thoroughly informed decision.