8 August 2014
New version of Duplicate Email Remover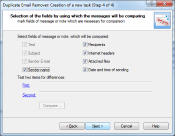 We would like to announce a new version of our award-winning Duplicate Email Remover: the 'top-rated' Microsoft Outlook add-in for searching and removing duplicated email messages in Microsoft Outlook.
The new version of the product (v.3.0) provides an excellent feature to find and process duplicates messages more efficiently and conveniently: now you can compare 2 messages from a folder, and based on this comparison, select the appropriate criteria set for duplicate searches.
Sometimes, after duplicated emails are processed by the product, you still can see duplicates in the folders - the reason is that these messages are not exact duplicates - they have differences in one or a few fields, usually from different message headers (the headers include technical information) or anti-virus software notes added to the message body, etc.
Duplicate Email Remover provides a solution for such cases now! You can compare two messages and detect which fields contain the differences and if these differences should not prevent the messages from being considered duplicates, such messages can be processed without comparing those fields.
A detailed 'how it works' post can be viewed in our blog, "How to clean duplicate messages out of the mailbox even if they are not really duplicates." This short article shows you 7 simple steps to compare messages and configured the required settings. You are also welcome to get the new version of the product from the Duplicate Email Remover homepage.
News list