14 September 2022
Digital signature and encryption in Mail Merge Toolkit 5.3
We are glad to introduce a new version of our intelligent mail merging app for Microsoft Outlook and Word. Mail Merge Toolkit provides you a range of unique features for personalized mass mailing that enables you to perform safe and highly efficient email campaigns.
In the latest version 5.3 we have added an option to add digital signature and encrypt email messages. Using this, you can protect outgoing sensitive information and improve email deliverability. It also allows to comply with privacy policies, like HIPAA Rules and others, that mandate encrypting messaging correspondence to maintain confidentiality.
In PRO Edition you can enable it for specific email campaigns. To use digital signatures and encryption in Standard Edition, it must be enabled for all outgoing messages in Outlook settings.
Please check with Microsoft Support about initial configuration of Digital ID and encryption options in Outlook: Secure messages by using a digital signature, Encrypt email messages.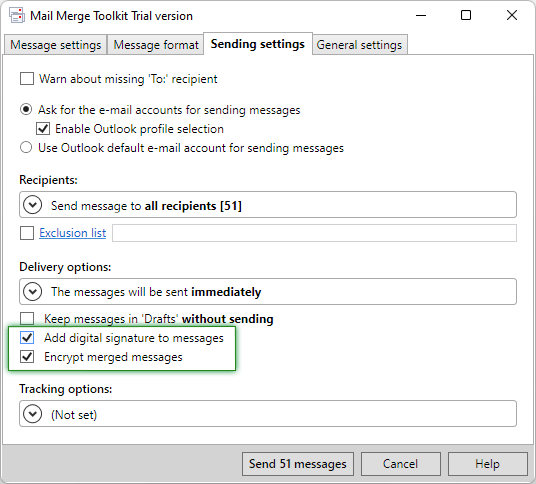 Find more details and download Mail Merge Toolkit 5.3.
All users with active license for the software maintenance service can get the latest version without extra fee. You can check your license status at the License Renewal page.
Feel free to contact us if you have any questions or comments.
News list