14 February 2007
The MAPILab company is a sponsor of the Internet-festival "Yantarnaya nit"
The MAPILab company is an active participant of various IT-events, both national and international. At the moment Kaliningrad is hosting a second regional Internet –festival "Yantarnaya nit" ("The amber thread"). The MAPILab company is one of the official sponsors of this event.
A press-conference devoted to the official opening of the second regional Internet-festival "Yantarnaya nit" was held on February 13, 2007 by Maksim Zuev, general producer of the festival, Alexander Gorlach, president of the MAPILab company, Oleg Evsyukov, head of the "Kaliningrad.ru" project and Konstantin Romanovsky, head of the "Independent Internet provider observer" project.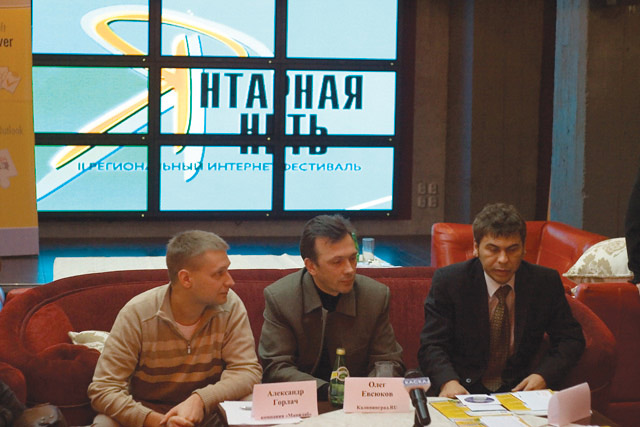 Alexander Gorlach, Oleg Evsyukov and Maksim Zuev
The participants of the press-conference informed the journalist about the launching of the official website of this festival as well as outlined the main events.
As Alexander Gorlach told, there are several IT-companies in the Kaliningrad oblast which deal with the Internet. However, their activities are not noticeable at the local market as their clients or partners are from Moscow or other counties. Quite often such festivals give us an opportunity to learn about these companies.
The festival will include the following events: "The Internet and mass media", "Authorities, politics, business and the Internet'; round tables devoted to various topics; regional competition of websites; keyboard throwing contest; paintball competition among telecommunication companies, web — developers, programmers, IT –specialists and representatives of the local mass media; the official ceremony of awarding the winners of the website competition etc.
News list