11 March 2009
The MAPILab company releases a new version of MAPILab Reports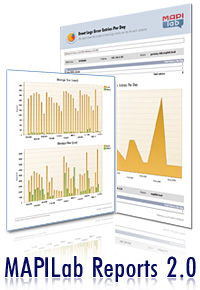 The MAPILab company is happy to announce a release of a new version of MAPILab Reports 2.0 – a reporting and analysis solution that provides immediate answers to questions about the state and use of the IT-infrastructure of a company.
MAPILab Reports is a program which collects data about IT-infrastructure, stores it into a database, and provides a set of ready-to-use reports which allows IT personnel to get data quickly and easily without requiring special knowledge for its interpretation. The product collects data agentlessly and can function fully on a regular workstation, making it very simple to deploy in any organization.
MAPILab Reports 2.0 was developed on the basis of the needs and experiences of a large number of companies from different economic sectors. Current reports were significantly re-designed and updated with a set of new reports enabling our clients to solve practical tasks.
A special 'Welcome screen' will simplify the process of product deployment and management. There is information about product settings, data collection status, scheduled task status as well as links to the key product documentation packs.
The MAPILab company launched a special website for promoting MAPILab Reports. Detailed information about MAPILab Reports, product documentation including Installation, Administrator's as well as User's guides are available at www.IT-Reports.com.
Take a chance to assess capacity of MAPILab Reports with the help of a fully-functional 30-day trial version. It can be downloaded from IT-Reports.com for free.
For further inquiries, please visit IT-Reports.com.
News list