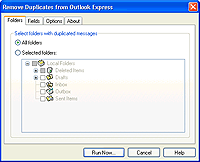 Duplicated messages appear in Microsoft Outlook Express every time the connection with the mail server fails. They can also appear as a result of different synchronization errors or message import errors. Your Inbox is loaded with lots of messages, many of which you have already read or even replied. You waste your time on reading the same message again and again. And if you group your messages in different folders, duplicated messages get into all Microsoft Outlook Express folders.
Please, pay your attention that Remove Duplicates for Outlook Express is for Outlook Express only. If you use
Microsoft Office Outlook
, look at the other MAPILab software -
Duplicate Email Remover
.
When duplicates are deleted manually, mistakes are inevitable - some messages you need will be removed without being read. As a result, important meetings are ruined, your clients don't get necessary information in time, you aren't aware of current affairs. And you don't even know that all this was caused by accidentally deleted messages.
How can we remove duplicated messages from Microsoft Outlook Express without losing any of important information? It can be done in just a few steps with the "Remove Duplicates from Outlook Express" program (every time you run the program, you'll be able to remove duplicates with one click of the mouse!).

1. Download "Remove Duplicates from Outlook Express" and install it
2. Run the program by clicking "Start->Programs->MAPILab->Remove Duplicates from Outlook Express
3. Select folders where duplicates can be located (you can also select all folders)
4. Click the "Run Now..." button to start scanning the folders for duplicates
Program Features:
deleting duplicates in all or selected folders
comparing messages by the main fields (text, subject, sender e-mail, sender name)
comparing messages by additional fields including attachments
deleting, moving or copying duplicates to a folder
searching for duplicates created within the last day, several days or without time limits
The program will search the selected folders for duplicates and move duplicates to the "Deleted Items". In the program settings you can select another folder where duplicated messages will be moved or make the program delete them.
Download Trial Version
You can download free trial version (2359 KB) of Remove Duplicates from Outlook Express and test it before purchasing:

Primary Download


Secondary Download
Ordering Information
A trial version of Remove Duplicates from Outlook Express is fully functional, but there are two limitations:
the add-in finds all duplicates but removes only 5 per task performed;
the free trial usage period is 30 days.
If you would like to use this software after the 30 days evaluation period a registration is required. You can order the fully licensed version of Remove Duplicates from Outlook Express over the Internet with any major credit card.
Pricing:
| | |
| --- | --- |
| License type | USD |
| Single user license | $15 |
| 5-users license | $55 |
| 10-Users license | $95 |
| 25-Users license | $195 |
| 50-Users license | $350 |
| 100-Users license | $500 |

* If you are interested in purchasing more than 100 users licenses, volume prices are available here.
** Site License is a special offer for users located in a single location (within the bounds of a single building complex) and limited up to 1500 users. The purchase of this license's type allows you to save up to 35%.
Click here to purchase the fully licensed version of Remove Duplicates from Outlook Express.