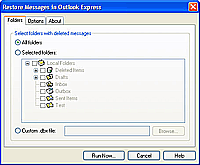 The Mail Recovery for Outlook Express software product serves for recovering damaged or deleted messages from mail folders and files in Microsoft® Outlook® Express.
Damaged messages. When you recover files after deletion or hard disk failure, after losing data from a flash drive or as a result of incorrect work of your operating system, files of folders containing Outlook Express messages can be damaged. Work with such folders becomes much slower, and Outlook Express does not show most of the messages. But even if most of the messages were damaged and Outlook Express shows that the folder does not contain any messages, you can recover many messages. Some messages can be recovered completely including their attachments, some messages can be recovered partially. The number of completely recovered messages depends on the amount of correct information in Outlook Express folders. For example, if you recover messages after hard disk failure, and 95% of disk information was restored correctly, you'll be able to recover approximately the same number of messages completely.
Deleted messages. After you delete a message, the information from it is stored in Outlook Express for some time. You can't imagine how many deleted messages that you thought were deleted completely are stored in your Outlook Express folders. Even if all messages are deleted and the Deleted folder is compressed, the deleted messages still remain in other folders. Unfortunately, standard Outlook Express tools don't allow restoring deleted messages. Moreover, after a message is deleted, it can't be recovered in its original form. In most cases, less than 1% of information in the message is lost completely. The number of completely recovered messages depends only on the size of messages. Small messages consisting of 1-3 lines can be recovered completely. In most cases it's impossible to recover attachments. Message headers, where contacts and subject are situated, are most often recovered completely. Anyway, even partial recovery of data is very important. If small amount of information is lost in a text message, you can still understand its idea by reading the rest. In many cases, the most valuable information in the message is either contacts' e-mails or web addresses. If you have a contact's e-mail, you can send a request and get the message again. If you have a web address, you also can get the necessary information again. From the headers of the recovered messages you will be able to understand what the message was about and when it was sent or received.
Program Features:
Restoring messages from all or selected folders
Restoring messages from .dbx files
Saving restored messages into a mail folder
Saving restored messages in text .eml files in the RFC822 format
Saving restored messages taking into account the folder structure
Restoring messages created within a certain time period
A very simple and intuitive interface
Download Trial Version
You can download free trial version (1532 KB) of Mail Recovery for Outlook Express and test it before purchasing:

Primary Download


Secondary Download
Ordering Information
A trial version of Mail Recovery for Outlook Express is fully functional, but there are two limitations:
the add-in recovers only 5 messages per task performed;
the free trial usage period is 15 days.
If you would like to use this software after the 15 days evaluation period a registration is required. You can order the fully licensed version of Mail Recovery for Outlook Express over the Internet with any major credit card.
Pricing:
| | |
| --- | --- |
| License type | USD |
| Single user license | $24 |
| 5-Users license | $75 |
| 10-Users license | $120 |
| 25-Users license | $250 |
| 50-Users license | $400 |
| 100-Users license | $500 |

* If you are interested in purchasing more than 100 users licenses, volume prices are available here.
** Site License is a special offer for users located in a single location (within the bounds of a single building complex) and limited up to 1500 users. The purchase of this license's type allows you to save up to 35%.
Click here to purchase the fully licensed version of Mail Recovery for Outlook Express.