21 February 2022
New Mail Merge Toolkit: sending limit, delivery, and read receipts
We are glad to introduce a new version of our intelligent mail merging app for Microsoft Outlook and Word. The Mail Merge Toolkit provides you a range of unique features for really personalized mailing that enables you to perform safe and highly efficient mailouts.
The new version of the app includes such necessary option as batched mailing. You can send messages in batches via the specified time interval now. This feature is a 'must-have' for everyone who has to face spam-related issues. As a rule, it means the limitations for the number of outgoing messages on your ISP side or corporate policy limitations as well. The most annoying inconvenience in such case is the situation when your whole mailout can be blocked totally and your recipients will not receive messages (probably important ones) in time. You can forget about such problems with the new Mail Merge Toolkit - comprehensible and simple settings will do your sending problems-free and guaranteed via scheduled batches.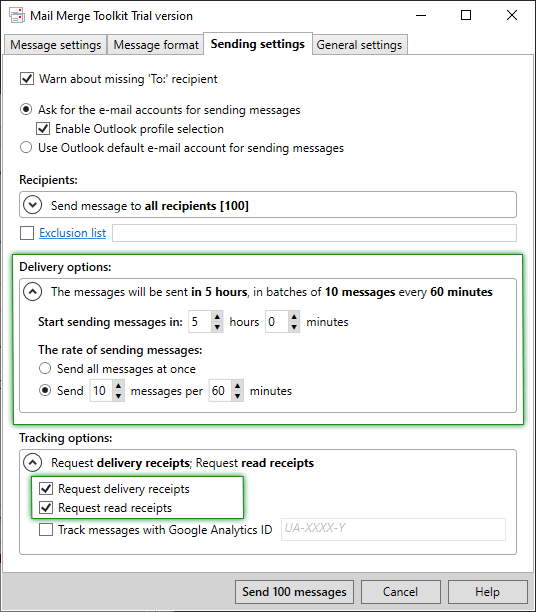 We've also added Delivery receipts and Read receipts to Tracking options of the message that allow being confirmed regarding the actual status of your mailing.
Please note the improvements described above work in the PRO edition of Mail Merge Toolkit only. Take in mind that you can always upgrade your edition of Mail Merge Toolkit - just contact our sales team.
Besides described above, the app's message sending report has been extended with new data and the issue with plain text (may occur in some MS Office configurations) has been successfully fixed.
You are welcome to update the product on the Mail Merge Toolkit homepage.
News list