17 January 2023
Mail Merge Toolkit: Send As / On Behalf, Send Later
MAPILab is pleased to announce the release of another important update to Mail Merge Toolkit. This advanced mail merging app for Microsoft Outlook and Word provides a range of unique features for personalized mass mailing, helping you to perform safe and highly efficient email campaigns.
Send mail merge email on behalf of someone else
Previously before sending messages, you had the option to select one of the configured Outlook accounts to be used. And now, starting from Mail Merge Toolkit version 6.0, you also can send emails as someone else, if you were granted a permission to Send As or On Behalf Of another mailbox. This feature works with Microsoft 365 and Exchange mailboxes and is available in the Professional Edition.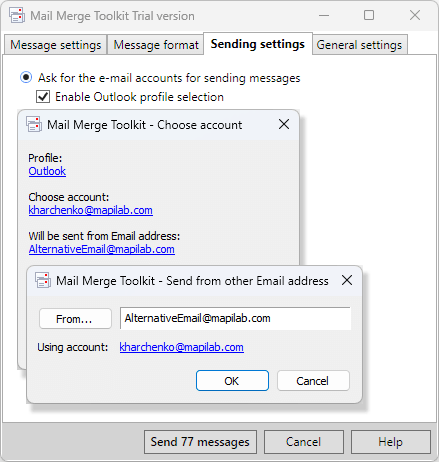 Set date in future to send mail merge emails
Another useful feature update in this version is a new option to set specific time and date in future to send messages. Created emails are delayed using the Do not deliver before setting and remain in the Outbox folder until the delivery time. This also allows to review and edit messages in Outlook before being sent out if necessary.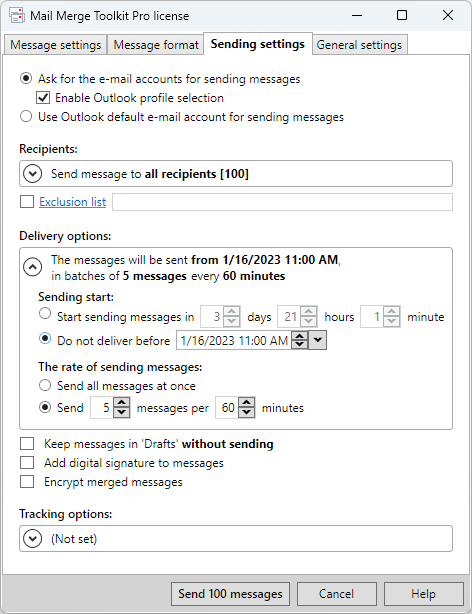 Find more details and download Mail Merge Toolkit 6.0.
All users with active license for the software maintenance service can get the latest version without extra fee. You can check your license status at the License Renewal page.
Feel free to contact us if you have any questions or comments.
News list