Advanced Folders Watch is a powerful and very flexible add-in for Microsoft Outlook for managers, analysts, observers, technical support team members — for everyone who has to deal with a great number of e-mail messages, and anyone who has to respond to e-mail messages while on-the-go, as well as those who just appreciate their time.
Thousands of the new messages from news conferences are downloaded into common folders on your corporate server every day. Several employees view messages in the conferences on an everyday basis in order to:
find mentions of your products and products offered by the competitors;
to reveal users searching for software and solutions to which a trial of your products or partner's could be recommended;
to get inspiration for new ideas and finger on the pulse knowledge to predict or be aware of any potential problems.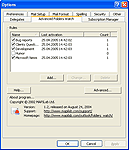 Newsgroups where users come with their problems are a very good free source of new clients for small companies. There is only one problem with it: the numbers of messages in these conferences are simply terrifying.
On our server, we have our own public conferences concerned with many different problems, and some of them are visited very rarely. There is no sense in checking them several times a day, but we would feel extremely ashamed to find a message from a user that had remained unanswered for a week.
This prompted us to create the Advanced Folders Watch a flexible add-in designed to monitor Microsoft Outlook folder and common folders on a Microsoft® Exchange server, this saves us hundreds of man-hours and also allows for the improvement of the quality of our work with current and potential clients.
How it works
This Outlook plugin watches the specified folder groups and informs the user of new messages meeting certain selection criteria (filters). User notification can be passive or active. In the first instance, Advanced Folders Watch creates posts in the specified folder, containing links to the messages found and message texts. Using these links, one can open a message or the folder it is stored in, by just one click. In the second instance, the messages found are shown in a pop-up window with extra features: you can view the new document, open, delete, or copy it. The two notification methods can be combined.
A group of settings consisting of the list of folders, filters, and notification settings forms a rule — the main logical component of the program. The number of rules Advanced Folders Watch can work with is unlimited. The rules are created using a Wizard, and in the rule properties editing mode, one can set a most sophisticated array of filters for the selection of messages. In the properties editing mode, rule testing is also available — for example, you can check to see if the rule will work for messages received over the past month or six months. The testing mode not only helps debugging but the rules help to avoid erratic operation, it can also be used to process an old message database.
Advanced Folders Watch offers solutions for a wide range of tasks related to message monitoring in public folders. And we hope it will become your true assistant, your navigator in the electronic information ocean.
Advanced Folders Watch is fully compatible with:
Microsoft Outlook 2007, 2003, 2002/XP;
Microsoft Windows 11, 10, 7, Vista, 2003, XP.
Download Full Version
You can download full version (1609 KB) of Advanced Folders Watch:

Primary Download


Secondary Download
Ordering Information
Advanced Folders Watch is free for commercial and non-commercial use.