Mail Merge Toolkit
An efficient and handy app that greatly improves mail merging capabilities in Microsoft Word and Outlook. Using this tool, you can perform mass mailing with the highest level of personalization: names, subjects, content, attachments - any part of the email can be uniquely for each separate recipient from your mailing list.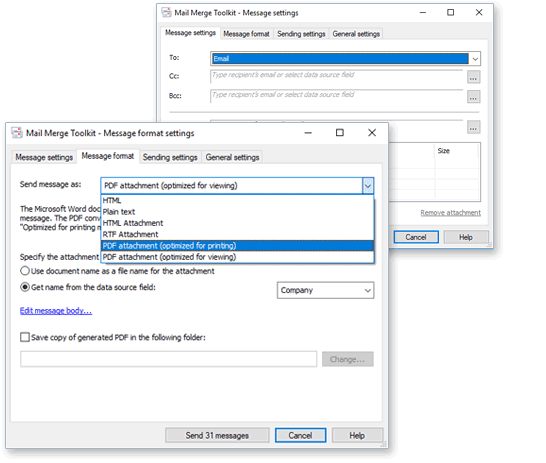 The most in-demanded features include:
Personalized email subjects in your mailout: "Information for John Johnson", "Information for David Davidson", etc. instead of the faceless "Information for employee".
Mail merging with attachments: send required attached files to target recipients. Sending personalized attachments is also supported - including personalized PDF attachments!
Mail merge by a SharePoint List: do you use SharePoint as corporate portal and store recipient lists there? No problem and no tedious convertations to Excel or Outlook contacts for your mailing.
Choose the most appropriate email format for your mailing: PDF, HTML, Plain text and RTF formats directly from Microsoft Word.
Track email campaign results with Google Analytics: just connect your GA account with the app and get the reports.
Is it safe to use? How secure is my data? When choosing between email marketing tools, data security is one of the main concerns. With Mail Merge Toolkit your mail lists, message content and attachments are safe and secure.
---
Subscription starts from $30
---
What user are saying:
"I just wanted to let you know that your Mail Merge Toolkit has just solved a long-standing problem at my company. We have Office (Word and Outlook). We were unable to do an e-mail merge from Word because of the mismatched versions. With your toolkit, we are now able to create letters sent to approx. 200 people every month in our organization that previously we were having to produce by hand. Thank you so much! You've made me look like a star!"
Toni Broaddus
PepsiCo Financial Shared Services

Send Personally for Outlook
A simple, handy and troubleproof tool for mass mailing from Outlook. This app provides the personalization you need for your mailouts by hiding recipient names from the 'To' field of your email messages sent via mailing lists. As a result, each final recipient sees only his own name and email address in the message header and never know any details about the other recipients!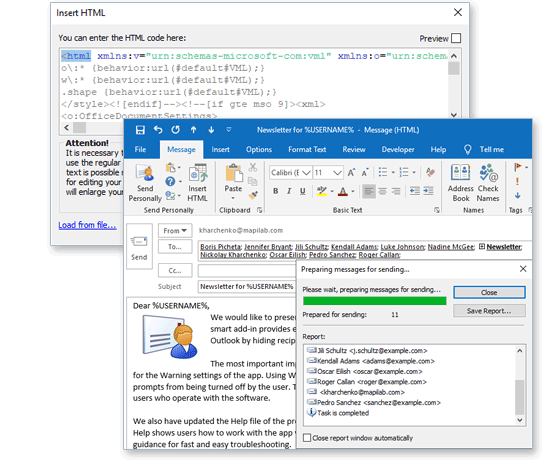 The key features of the Send Personally app:
More personalization with macros usage: enrich the text of your message with recipient name, e-mail address or the Outlook contact group / distribution list name.
Non-modified HTML: Send Personally will execute sending without allowing Outlook to reformat or modify your HTML code, esuring that your messages will look as they were designed in any email client or on any device.
Maintain privacy and security: email addresses and contact information in your distribution list can represent commercial or non-disclosure data. Don't share these details from email header among all your recipients. Just hide them with Send Personally.
No more 'reply-to-all' problems: Outlook's useful and user-friendly 'Reply all' button can be a real problem if someone uses it when responding to a distribution list. Everyone in the contact group gets the message. Send Personally sends an individual email to each member of the group, making this potentially embarrassing and inconvenient scenario a non-issue.
---
Subscription starts from $30
---
What user are saying:
"Send Personally is a great product. Easy to use! I don't know how I got along without these simple tools and add-ins. Your support team has always been very responsive to questions on usage and pricing. Thanks!"
Roman Gneiding
Gneiding Consulting