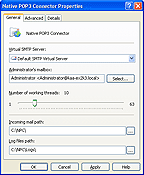 The new version of this popular software product — Native POP3 Connector (hereafter NPC) — is an extension for Microsoft Exchange Server 2000/2003 and Microsoft Small Business Server 2000/2003. It is a connector or a gateway to use the terms of the aforementioned products. In this version a lot of program features have been added and all known issues from previous versions have been fixed.
NPC offers a standard solution for the problem with receiving mail through the POP3 protocol for Microsoft Exchange Server 2000/2003 and Microsoft Small Business Server 2000/2003 with Microsoft Exchange Server installed (SBS 2000/2003). NPC is a solution with an affinity to Microsoft Exchange Server 2000/2003 and SBS 2000/2003 — Connector. During the installation, the administrator has an opportunity to install a new type into the Connectors Exchange System Manager group (also available in SBS Administration Console): Native POP3 Connector. Upon installation, all administration procedures are performed in a way standard for Microsoft Exchange 2000/2003 and SBS 2000/2003 — by editing the properties of the Connector installed via Exchange System Manager.
Information for Microsoft Exchange Server 2013, 2010, 2007 users!
Please pay your attention that Native POP3 Connector is compatible with Microsoft Exchange Server 2000/2003 only. If you have Microsoft Exchange Server 2013, 2010, 2007, please use another MAPILab title –
MAPILab POP3 Connector
.
Program Features:
Integration
Exchange System Manager full integration with the distributed administration feature.
NPC is a native solution for Microsoft Exchange Server: you can manage and configure it as if it were a standard connector. Just add it to the Connectors group using System Manager. Then you will be able to appoint a person responsible for the employee's POP3 mailbox management and prepare the corresponding Microsoft Management Console applet for the connector.


Active Directory full integration.
The entire NPC configuration is stored in the Active Directory structure of your company in the Connectors group of the Microsoft Exchange Server tree. You can get access to it using any standard working tool with Active Directory (ADSI Edit and NPC itself included).


Microsoft Exchange Server recipient support.
NPC will deliver you POP3 mail to any recipient: a user, a group of users, a contact or a public folder.
Scalability
Adding several connectors to one routing group.
You can manage your POP3 mail delivery the way you find most convenient: you can divide the delivery by adding several NPC instances (up to 255) in System Manager and configuring the delivery to different Virtual SMTP Exchange servers. So you can use NPC in companies of any size and structure: both in small companies and in large corporations.


Support of a large number of mailboxes.
NPC supports up to 65 thousand mailboxes for every instance thus satisfying any needs your company may have with remote POP3 mail.


Special server-license benefit: multi-user (global) mailboxes.
Depending on your ISP configuration it may provide catch-all mailboxes. If so, NPC can help you process these ones. NPC can handle their recipient detection. A built-in duplicate remover eliminates all useless messages (sometimes they do exist on your ISP's server). This feature is available to server-license owners only.


Multithreaded processing.
Mailbox processing can be performed simultaneously which allows all users to receive their mail at the same time without waiting for the mail from other mailboxes.
Audit
Convenient audit system using Event Viewer.
All critical events occurring in NPC work are reflected in a Windows Event Log. So you don't need any additional audit tools: it is performed by the standard tool - Event Viewer.


Adjustable logging system of the POP3 protocol events.
You can watch the protocol work with as many details as you need. You can manage the log files on a connector level: specify the maximum file size, the period for new file creation for each connector, or you can even just use one big file. You can select the event logging mode for each mailbox: log only errors, all protocol events with different level of details, or you can disable the logging completely. You can keep everything in hand: NPC provides you with every available way of logging events.


All mail is under your control
NPC stores the received mail in a specified folder. All mail messages are saved in the standard EML file format. If for any reason NPC is unable to deliver the message to the recipient or administrator it will remain in the folder until you intervene and eliminate the reason.
Adjustability
Secure Socket Layer (SSL) connections support.
If the security policy of your company demands the receiving of mail using SSL, NPC will provide you with such a feature: you can configure any mailbox according to this protocol.


Secure Password Authentication (SPA) support.
If your POP3 service provider demands the use of SPA for authentication any of the NPC mailboxes can be configured to use this engine.


Flexible mailboxes processing scheduler.
Configure each mailbox processing the way you need: at a specific time, the days of the week and in any time intervals. Unlike standard Microsoft POP3 Connector in Small Business Server, NPC allows you to use intervals of less than 15 minutes. The mailbox checking interval can actually vary from one second to several hours.


Automatic and manual modes for the message recipients' resolving.
Despite whether your company uses catch-all or one-user mailboxes, NPC will process any and all of them. Specify one or several recipients for the mailbox. In addition to the standard headers (To, CC) specify your own custom headers for the recipients search. You are able to do it in our product.


A set of advanced options for a highly-optimized message receiving process.
NPC provides you with the tools for a fine adjustment of message receiving process. You can leave your messages on the POP3 server after receiving them, delete them after a number of days, turn down the receiving of large messages (you can delete them without receiving), restrict the number of received messages for one session, receive mail sorted by size - from the smallest to the biggest messages, etc.
System requirements
Microsoft Windows Server 2000/2003 or Microsoft Small Business Server 2000/2003;
Microsoft Exchange Server 2000/2003;
Administrator and Schema Admins rights to install;
Administrator priveleges to configure.
Note: Please, note that Microsoft Exchange Server Clusters aren't supported by the current version of the Native POP3 Connector, but this support will be added to the next version of the program.
Download Trial Version
You can download the free 20-day trial version of Native POP3 Connector for Exchange 2000/2003 (1906 KB) and test it before purchasing.

Primary Download


Secondary Download
Ordering Information
The trial version of Native POP3 Connector for Exchange 2000/2003 has no limitations. But if you would like to use this software after the 20 days evaluation period a registration is required. You can order the fully licensed version of Native POP3 Connector for Exchange 2000/2003 over the Internet with any major credit card.
Pricing:
| | |
| --- | --- |
| License type | USD |
| 10-Mailboxes license | $79 |
| 25-Mailboxes license | $149 |
| SBS license | $199 |
| 50-Mailboxes license | $199 |
| Exchange Server license | $299 |

If you would like to purchase the several types of licenses for amount more than $1500, volume purchase discounts are available here.
* Site License is a special offer for the users of a single location (within the bounds of one building complex) and limited up to 15 servers on which product will be installed. The purchase of this license's type allows you to save up to 35%.
Licenses description:
Click here to purchase the fully licensed version of Native POP3 Connector for Exchange 2000/2003.
Technical support.
The license grants you the right to access new versions and technical support free for one year. After that, you can continue to use the installed version of the product without any limitations, but if you would like to get technical support or to download newer versions of the product, license renewal will be required. To get the status of your license and to renew it, please see the Renew license section.
Technical support is provided via email and our ticketing system via the website.