Attachments Forget component
Do sometimes situations happen when you forget to attach a necessary file before sending a message? Cases like this can make a bad impression of you. With the use of Attachments Forget you will not get embarrassed in the face of your partners! This Microsoft Outlook add-in looks through the message and if it finds any of the specified keyphrases (e.g., "see attachment" or "in the attached file") but no file is attached to the message, the program will give out a notification.
This Outlook add-in works automatically and requires minimum settings for your writing style. You can edit the list of key phrases, delete them and create new ones. Attachments Forget is able to react not only to separate phrases but also to parts of single words. So, if the key phrase is "attach", you can be sure that when the words "attaching" or "attached" are detected, Outlook add-in will notify you that you have forgotten to add the file.
The use of Attachments Forget allows you to:
avoid confusing situations;
be sure that you will not forget to attach a file to a message anymore.
Example of component use:
If you have ever forgotten to attach a file to a message, you already know how embarrassing this situation can be. Your forgetfulness may characterize you as an absent-minded and careless person. The use of this Outlook add-in will allow you to avoid similar situations in the future.
After installing the MAPILab Toolbox you should make sure that the Attachments Forget is enabled. Verify that the box of the add-in is checked in the settings of MAPILab Toolbox (menu "Tools" > "MAPILab Toolbox" > "Options").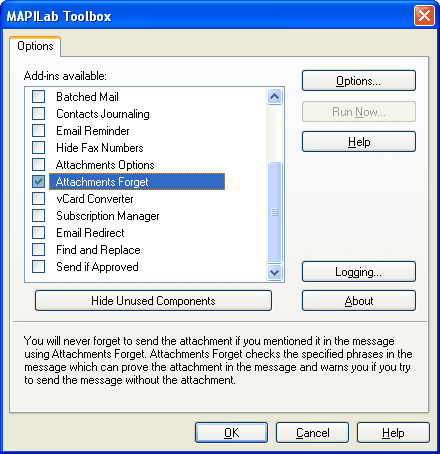 Now it is necessary to specify those words and letter-groups in the component's settings (menu "Tools" --> "MAPILab Toolbox" --> "Attachment Forget"), which will be regarded by this Outlook add-in as key-phrases in your messages. The following letter-groups can be added: "attach", "see attachment", etc.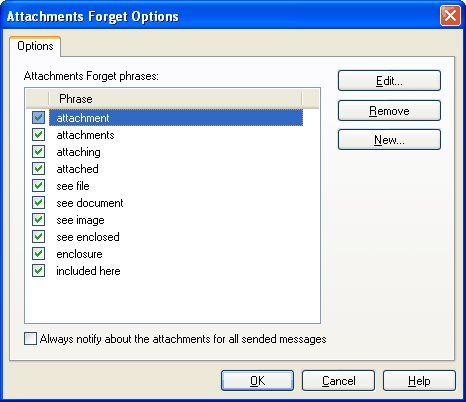 After this Outlook add-in`s configuration may be regarded as completed. Now, if the new message has one of the key phrases but no attachment is enclosed, you will get a notification: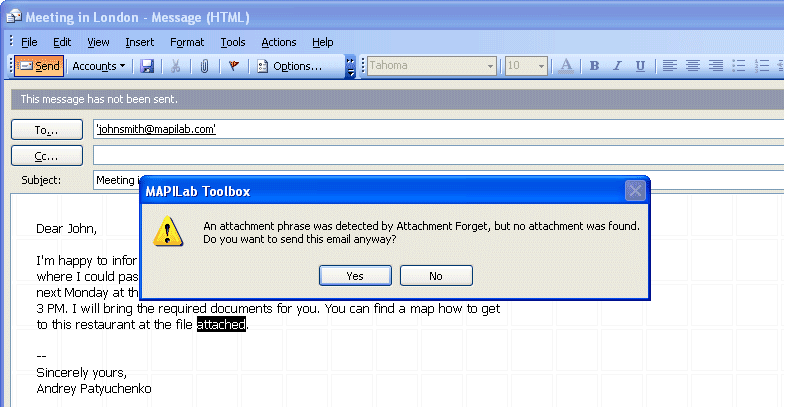 The Attachments Forget component is one of the 20 add-ins included into the program MAPILab Toolbox. You can learn more about other Microsoft Outlook add-ins and download the trial version at the MAPILab Toolbox product page.
Click here to find detailed information about licenses and purchase the full version of MAPILab Toolbox.