Contacts Journaling component
Journaling allows you to monitor the whole history of communication with a contact. All events connected with the selected person are added to the Journal. It can be personal correspondence, setting or canceling an appointment, assigned tasks, etc. Microsoft Outlook allows turning the journaling on for individual contacts stored in the Contacts folder. But what if you have several contact folders and a total number of contacts is more than a hundred? In this case, switching on journaling manually can be very boring and exhausting task. You can avoid these situations if you use our Outlook add-in - Contacts Journaling. It can enable/disable journaling for all or just for selected contacts in the selected folder. Just a few mouse-clicks can help to keep you off long and boring activation of journaling for each contact!
The Contacts Journaling component allows to:
quickly enable/disable journaling for all or selected contacts;
enable/disable journaling for contacts stored in the different folders.
Example of component use:
It is very easy to use this Outlook add-in. First of all, you should make sure that it is enabled. For that, after installing MAPILab Toolbox, verify that the box of the component is checked in the settings of MAPILab Toolbox (menu "Tools" > "MAPILab Toolbox" > "Options"):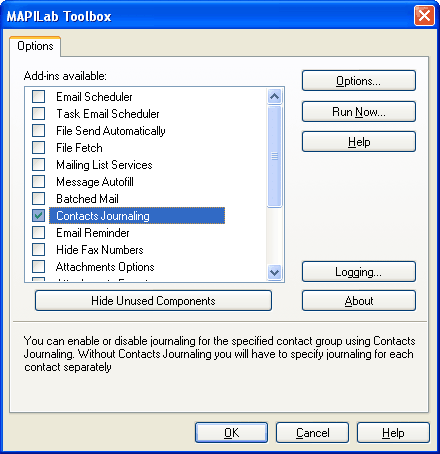 Now you should select in the component's settings (menu "Tools" > "MAPILab Toolbox" > "Contacts Journaling"), on the "General" tab, what you would like to do – enable or disable journaling, as well as in which folders the necessary action must be performed. In the "Contacts" tab you can configure exceptions for the contacts, to which the program operation will not be applied: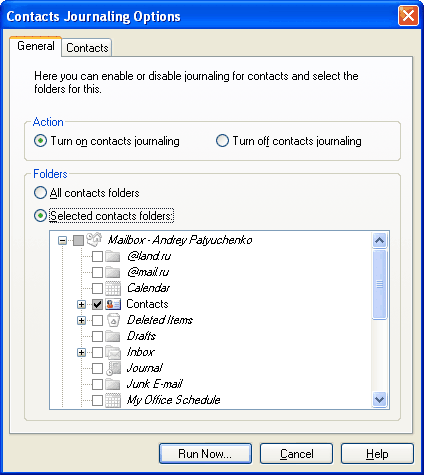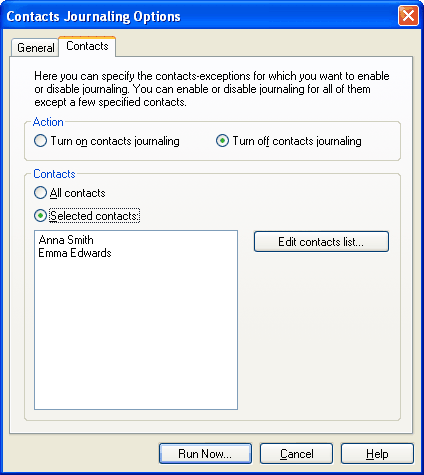 After clicking the "Run Now" button, this Outlook add-in will perform the required action.
The Contacts Journaling component is one of the 20 add-ins included into the program MAPILab Toolbox. You can learn more about other Outlook add-ins and download the trial version at the MAPILab Toolbox product page.
Click here to find detailed information about licenses and purchase the full version of MAPILab Toolbox.


| | |
| --- | --- |
| | Purchase MAPILab Toolbox online through a secure server with any major credit cards. |




Works as expected!! Rather jealous of your capabilities of "manipulating" the registry. Thanks for your help!! (again) The add-ins from MAPILab have been everything I expected, and then some. The support that has been provided could not, in my opinion, be improved on in any way!!

John Scholten


Leave your testimonial


Related posts in company's blog
---
How to select Outlook account for messages automatically

Managing two Outlook accounts at the same time can be tricky – especially, if you need to be careful about what account you send new messages from. Thanks to Message Autofill...

How to schedule recurring emails in Outlook 2013


One easy method of sending recurring email messages is via the Email Scheduler and Task Email Scheduler add-ins for Outlook. Both add-ins are very similar in principle...
How to add BCC recipient automatically in Outlook 2013


When you send specific message through Outlook, you may need to send a blind copy to a person, just to let him know the case. That is easy if you send a single message. But sometimes...
How to send Outlook emails by schedule


It is a well-known fact that people find it easier to make a promise than to keep one, but when it comes to business commitments, there are no pretexts good enough to break those...
Sending Outlook emails after approval only


A new face in the company is not just 'fresh blood', ambition-driven diligence, and some new jokes at lunchtime. A new employee is also a great deal of responsibility ...