Contacts Journaling component
Journaling allows you to monitor the whole history of communication with a contact. All events connected with the selected person are added to the Journal. It can be personal correspondence, setting or canceling an appointment, assigned tasks, etc. Microsoft Outlook allows turning the journaling on for individual contacts stored in the Contacts folder. But what if you have several contact folders and a total number of contacts is more than a hundred? In this case, switching on journaling manually can be very boring and exhausting task. You can avoid these situations if you use our Outlook add-in - Contacts Journaling. It can enable/disable journaling for all or just for selected contacts in the selected folder. Just a few mouse-clicks can help to keep you off long and boring activation of journaling for each contact!
The Contacts Journaling component allows to:
quickly enable/disable journaling for all or selected contacts;
enable/disable journaling for contacts stored in the different folders.
Example of component use:
It is very easy to use this Outlook add-in. First of all, you should make sure that it is enabled. For that, after installing MAPILab Toolbox, verify that the box of the component is checked in the settings of MAPILab Toolbox (menu "Tools" > "MAPILab Toolbox" > "Options"):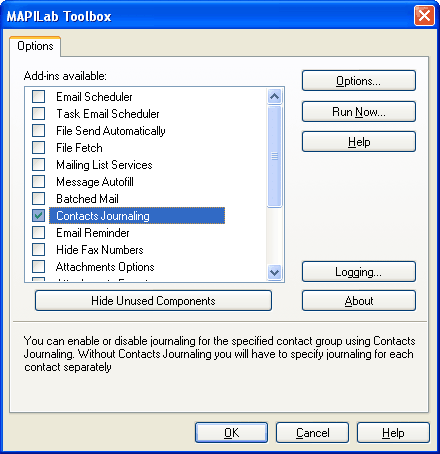 Now you should select in the component's settings (menu "Tools" > "MAPILab Toolbox" > "Contacts Journaling"), on the "General" tab, what you would like to do – enable or disable journaling, as well as in which folders the necessary action must be performed. In the "Contacts" tab you can configure exceptions for the contacts, to which the program operation will not be applied: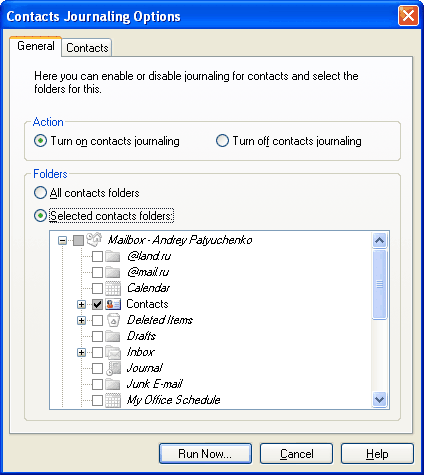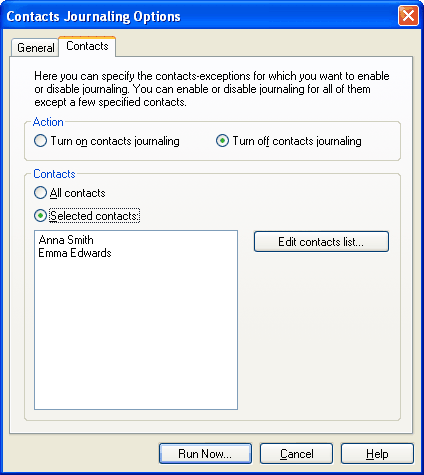 After clicking the "Run Now" button, this Outlook add-in will perform the required action.
The Contacts Journaling component is one of the 20 add-ins included into the program MAPILab Toolbox. You can learn more about other Outlook add-ins and download the trial version at the MAPILab Toolbox product page.
Click here to find detailed information about licenses and purchase the full version of MAPILab Toolbox.