Email Redirect component
If you often receive messages that belong to another recipient, the standard forwarding to the required address can cause some inconvenience to you. The message appearance can change as well as its formatting and the message history; also the original sender's address is replaced with the address of the person, who has forwarded the message. Thereby, in order to reply to the original sender, the recipient has to paste the address in the "To:" field manually or even create a new message and lose the whole history of the conversation. All these problems can be solved with the Email Redirect program. This Outlook add-in can deliver the message to the necessary recipient in its original, unchanged view.
ATTENTION! In order for the messages to be processed correctly, this Outlook add-in must be installed on two computers: the sender's computer and the recipient's computer.
Example of component use:
After installing MAPILab Toolbox it is necessary to make sure that the Email Redirect component is enabled. You should verify that the component is checked in the settings of MAPILab Toolbox (Tools > MAPILab Toolbox > Options).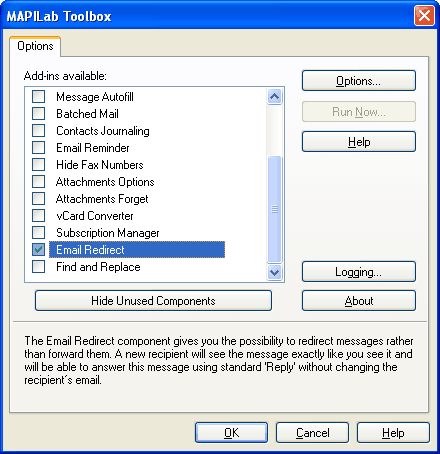 This Outook add-in is ready for use right after enabling. You can redirect the message by clicking the corresponding button on the toolbar:

Select messages for redirecting and click the "Redirect" button. You will see the dialog window with the redirecting settings:
You can redirect all messages to one address or select addresses for each email separately. After clicking the OK button the messages will be ready for redirecting and located in the Outbox folder.

This Outlook add-in recreate the redirected message in its original appearance on the recipient's computer after receiving it.
The Email Redirect component is one of the 20 add-ins included into the program MAPILab Toolbox. You can learn more about other Outlook add-ins and download the trial version at the MAPILab Toolbox product page.
Click here to find detailed information about licenses and purchase the full version of MAPILab Toolbox.