Outlook Email Reminder component
If you are often out of the office, you will appreciate the usability of the Email Reminder. With the help of this Microsoft Outlook add-in, you can receive all reminders, appointed tasks and calendar events that are saved in your Microsoft Outlook folders by email. And if you use a gate between email and, e.g., Short Message Service (SMS), you can be informed about all your events by receiving them on your mobile phone! With the help of Email Reminder add-in, you are not going to ever miss important meetings or forget to congratulate your friends on some holiday because you were on a business trip for several days!
The Email Reminder allows you to:
be well informed about all your events, regardless of your location;
receive reminders by emails, and, if any additional gates are used – get SMS with the reminders on your mobile phone or pager;
easily configure the reminder's templates that you will receive.
Example of component use:
You will have to make a business trip for a week, but you want to be informed about all your events saved in your Microsoft Outlook. That is not a problem! By using this Outlook add-in you will receive all reminders to the specified address by email!
First of all, you should make sure that the component is enabled. For that, after installing MAPILab Toolbox, make sure that the box of the addin is checked in the settings of MAPILab Toolbox (menu "Tools" > "MAPILab Toolbox" > "Options"):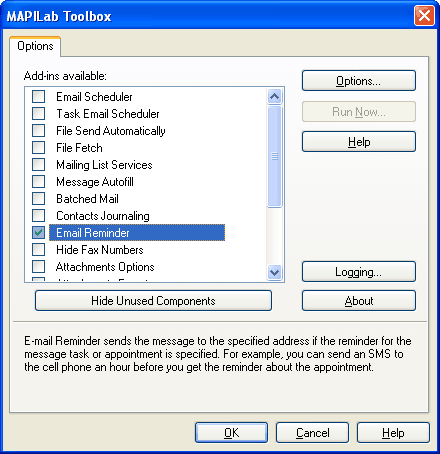 Now you should select the folders, from which the reminders will be automatically forwarded, and also the email address, to which these messages will be sent. Many mobile operators have a gateway that connects e-mail and SMS. For example, if you send a message to the address like [email protected], where xxxxxxxx is a telephone number, the telephone subscriber will receive SMS message with the text of the letter that has come to this address. Select the necessary address in "Recipients":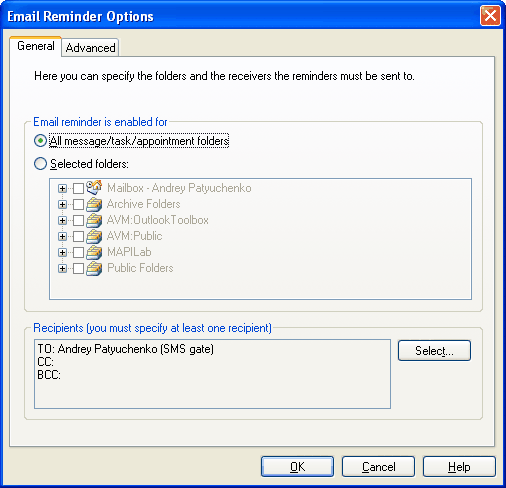 The convenient template of the reminder can be composed on the "Advanced" tab. For that, it is necessary to click the "Edit Templates" button and compose the reminder's template using several macros: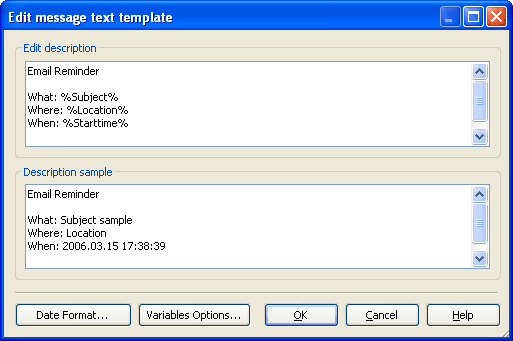 Set additional configurations the following way:
Send the message for 30 minutes before the event has occurred – the reminder will be sent in 30 minutes prior to the event;
Force/Send Receive for Outlook messages – the reminder will be sent immediately regardless of the Microsoft Outlook settings.
Don't show the reminder dialog (Dismiss reminder) – the reminder window will not appear at the primary computer.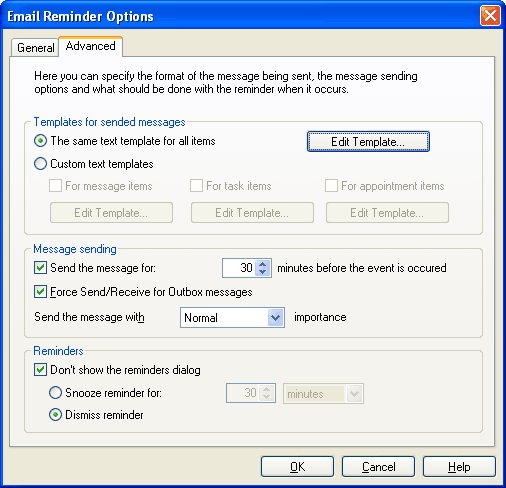 Now, Email Reminder will send the message in advance: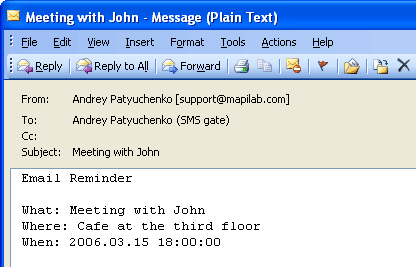 The Email Reminder component is one of the 20 addins included into the program MAPILab Toolbox. You can learn more about other Microsoft Outlook addins and download the trial version at the MAPILab Toolbox product page.
Click here to find detailed information about licenses and purchase the full version of MAPILab Toolbox.


| | |
| --- | --- |
| | Purchase MAPILab Toolbox online through a secure server with any major credit cards. |




In addition to Send Personally I own the Toolbox. As a small business owner, I use these products daily. I have tried MANY Outlook Add Ins with either mediocre or disastrous results. Every MAPILab product I have tried or purchased has worked flawlessly and when I had a computer problem the staff at MAPILab were available and responsive and helped me fix the issue rapidly (not a product problem but a damaged registry issue). I recommend without hesitation MAPILab products (and support) to anyone who uses Outlook. You will be pleased. Thanks, MAPILab.

Krispin Sullivan


Leave your testimonial


Related posts in company's blog
---
How to select Outlook account for messages automatically

Managing two Outlook accounts at the same time can be tricky – especially, if you need to be careful about what account you send new messages from. Thanks to Message Autofill...

How to schedule recurring emails in Outlook 2013


One easy method of sending recurring email messages is via the Email Scheduler and Task Email Scheduler add-ins for Outlook. Both add-ins are very similar in principle...
How to add BCC recipient automatically in Outlook 2013


When you send specific message through Outlook, you may need to send a blind copy to a person, just to let him know the case. That is easy if you send a single message. But sometimes...
How to send Outlook emails by schedule


It is a well-known fact that people find it easier to make a promise than to keep one, but when it comes to business commitments, there are no pretexts good enough to break those...
Sending Outlook emails after approval only


A new face in the company is not just 'fresh blood', ambition-driven diligence, and some new jokes at lunchtime. A new employee is also a great deal of responsibility ...