Reminders Assistant
This Outlook add-in enhances the functionality of the standard reminder system of Microsoft Outlook and gives you a possibility to set reminders for each and every folder including embedded ones.
The reminder processing system in Microsoft Outlook allows setting reminders only for the elements that are located in one of four folders: Inbox, Calendar, Tasks, and Contacts. If the element is in other folders or subfolders, you will not be able to see the reminder for it. But with the help of this Outlook add-in, you can select folders and subfolders containing elements for which you don't want to miss reminders.
Example of component use
First of all you should make sure that the Reminders Assistant component is enabled in the settings of MAPILab Toolbox: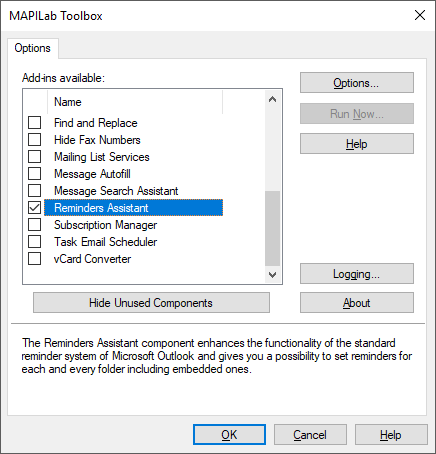 In the component setting window (Tools --> MAPILab Toolbox --> Reminders Assistant) you can select the folders containing elements which the reminders are going to be shown for. Only four folders are checked by default. You can add any other folders to this list and in such way, we will never ever miss reminders set for the elements in these folders: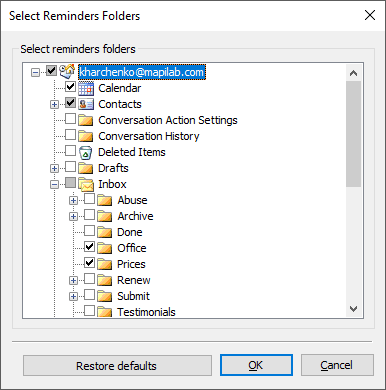 The Reminders Assistant component is one of the 20 addins included into the program MAPILab Toolbox. You can learn more about other Outlook addins and download the trial version at the MAPILab Toolbox product page.
Click here to find detailed information about licenses and purchase the full version of MAPILab Toolbox.