Subscription Manager component
You can automate the work with the distribution lists and offer your subscribers the possibility to subscribe to and unsubscribe from distribution lists without your assistance. No special scripts and services are required on your website. This Outlook add-in gives your users the full control over their subscription, and you won't have to divert your attention to constant requests to add/remove the subscriber to/from the distribution list! Besides the subscription management, Subscription Manager can automatically inform the user about the status of his/her subscription and send a message with a request, using which the subscriber can administer his/her subscription.
The Subscription Manager component tracks the incoming messages and when one of the key phrases - 'subscribe', 'unsubscribe', and 'help' – is found in the subject line, Outlook add-in updates the distribution lists correspondingly.
The use of the Subscription Manager component allows to:
automate processing of requests to add/remove addresses to/from the distribution lists;
add or remove the distribution lists that are available for the subscribers with just a few mouse-clicks.
Example of component use:
Do you have a lot of subscribers, to which you send your company's news? With the help of this Outlook add-in, you can fully automate the process of managing subscribers in order to save your time.
First of all, it is necessary to make sure that the component is enabled. For that, after the MAPILab Toolbox installation, verify that the box of the component is checked (menu "Tools" > "MAPILab Toolbox" > "Options"):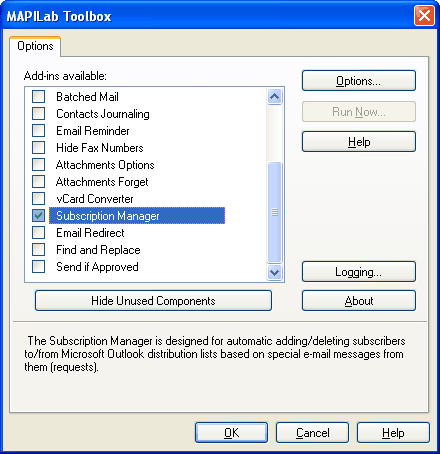 Now it is necessary to configure this Outlook add-in. In the settings of the component (menu "Tools" > "MAPILab Toolbox" > "Subscription Manager" > "Options"), on the "General" tab, you should select the folder, that contains the distribution lists, to which the user can subscribe. On this tab you can select, which lists are available to subscription:

all distribution lists in the folder;
only the lists marked with a flag;
the lists that have the word 'subscribe' in the "Notes" field.

Also select a separate folder for the incoming request messages from your subscribers, so that the messages won't bother you.

On the "Templates" tab you can change the view of the automatically generated template messages for managing subscribers, and on the "Advanced" tab you can select additional subscription parameters, e.g. ignoring messages with incorrect commands or the mailing account, from which the distribution will be sent, and additional settings: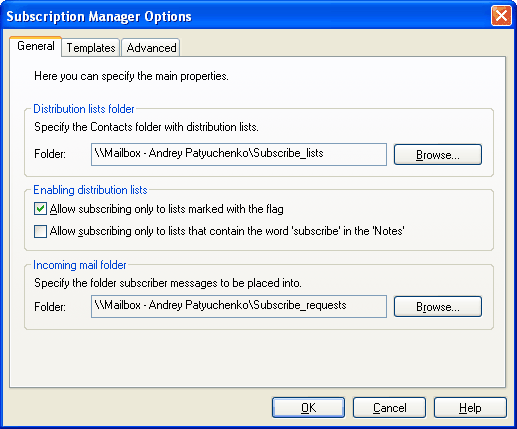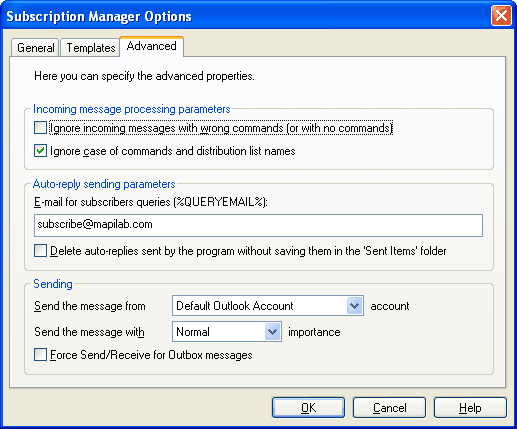 The Subscription Manager component is one of the 20 add-ins included into the program MAPILab Toolbox. You can learn more about other Outlook add-ins and download the trial version at the MAPILab Toolbox product page.
Click here to find detailed information about licenses and purchase the full version of MAPILab Toolbox.