VCard Converter component
The vCard format is a universal format of storing contact information and it is supported by many email clients. You can send your contact data in the vCard format with every message, so as your recipients would have the latest and full contact information about you. The same way, some messages with vCard files attached might gather in your mailbox. And if there are a lot of messages like this, importing the data from the messages to your address book manually can be very exhausting and time-consuming. This Microsoft Outlook add-in allows automating the work with the files in vCard format.
With the help of VCard Converter you can:
export data from the vCard format files into your address book or contacts;
import data from the address book to the vCard format files;
process a great number of contacts simultaneously.
Example of component use:
You have a separate folder with the stored contacts, and you want to transfer these contacts to another person. If there are a lot of contacts, importing the contacts manually can be very exhausting. This Outlook add-in can fulfill this task in less than a minute.
First of all, you should make sure that the vCard Converter component is enabled. For that, after installing MAPILab Toolbox, verify that the box of the component is checked in the settings of MAPILab Toolbox (menu "Tools" > "MAPILab Toolbox" > "Options"):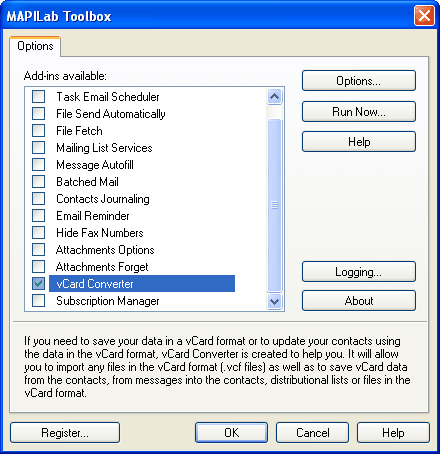 This Outlook add-in is supplied with a ready-to-use list of rules, which will help you to carry out virtually all actions with the contact information stored in the vCard format. You can also create your own rules.
If our example it is necessary to import data from the address book into the file with the extension VCF, which can be sent to the recipient by email afterward. For that, right-click with the mouse, when you are in the contacts folder, and select from the contextual menu "vCard Converter --> Export all contacts from the current contact folder into the vCard file". The program will ask you to enter the name of the file to be created, after this, it will process all contacts and create a VCF file that will have all imported information saved in it: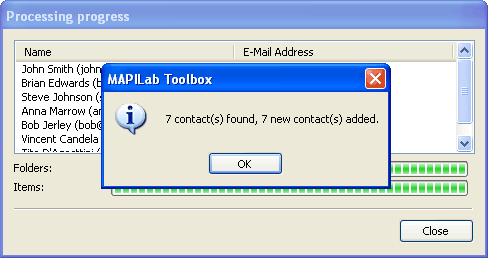 Now you can attach the file to the message and send to a specific address: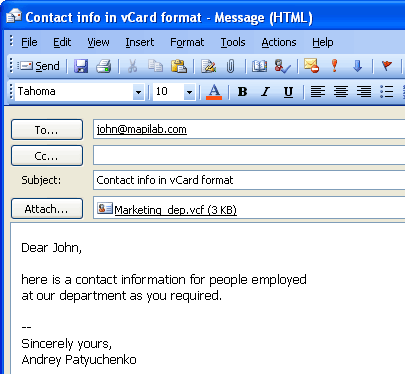 The VCard Converter component is one of the 20 add-ins included into the program MAPILab Toolbox. You can learn more about other Outlook add-ins and download the trial version at the MAPILab Toolbox product page.
Click here to find detailed information about licenses and purchase the full version of MAPILab Toolbox.