Manage blocked attachments in Outlook: get access to them or block wanted file types
Table of contents:
General information
By default Microsoft Outlook blocks attachment types that are considered to be insecure for use. This is done for security reasons – similar files may contain viruses. However, it sometimes happens that you fully realize the potential danger of using insecure file types, but you must necessarily gain access to them. The standard means of Microsoft Outlook doesn't allow that. But Attachment Processor has a separate Outlook addon included in it – Blocked Attachments Manager. With the help of it you can manage which file types must be considered "dangerous" and must be blocked, and which – "secure" and the access to them must be allowed.
Example of component use
When you receive a message that contains some dangerous file, this Outlook addon will inform you about it with the following notification: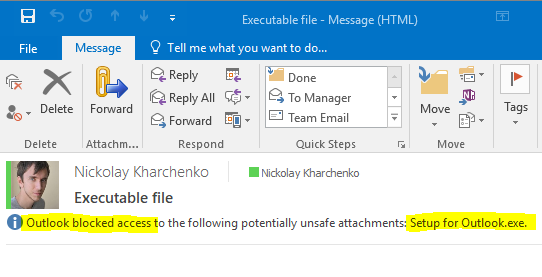 In order to allow suing blocked file types, launch the component Blocked Attachments Manager (Tools --> Attachment Processor --> Tools --> Blocked Attachments Settings) and in the settings window mark the file types that you want to have access to: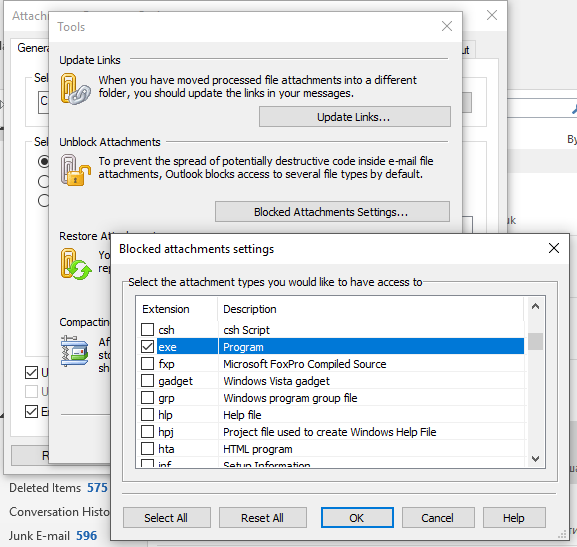 After making changes you should restart Microsoft Outlook for them to be applied. Open Microsoft Outlook and you will see that now you have access to the file types that have been blocked before: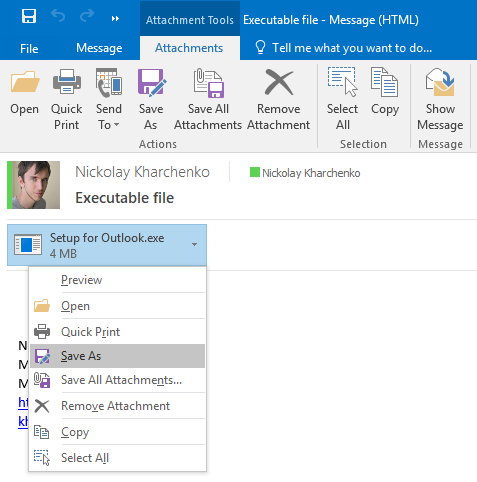 The Blocked Attachments Manager component is on of the three addons included into the program Attachments Processor for Outlook. You can learn more about other program components and download the trial version at the Attachments Processor for Outlook product page.