There are situations that require to hide addresses in Outlook from recipients, such as performing a large mailing. If you are composing some type of personalized business correspondence, for instance, hiding recipients in Outlook will allow for a more delicate, proficient and effective approach.
Let us imagine that one has to send reminders each month to all staff members: each staff member will receive a letter with the reminder text in this case, but each recipient will be able to see a lot of unrelated email addresses, and some recipients may even be uncomfortable with their email addresses visible to others, not counting the fact that an obviously automated and impersonal email message receives less attention than a personalized one. With this in mind, a personalized letter with hidden list of recipients is less likely to be ignored by its addressee and is, generally, a more appealing and professional way of reaching out to the staff members or clients.
Creating personalized letters and hiding recipients in Outlook is a breeze now. Despite not allowing to hide addresses in Outlook, Microsoft Office in its basic package is able to perform mass mailing via the use of the mail merge feature in Word.
To hide addresses in Outlook, some kind of a third party add-in needs to be installed. There are two MAPILab products that aim to introduce a seamless, personalized mailing with the ability to hide email addresses with Microsoft Office as a software platform: Send Personally and Mail Merge Toolkit. While both serve the same purpose, their usage differs a little, depending of the use-case scenario and/or the user's preferred style of generating email.
Send Personally will work in Microsoft Outlook, adding a special icon to the "New Email" window, beside the basic "Send" button, and is independent and a more "out-of-the-box" add-in for personalized mail generation and hiding recipients in Outlook. It looks for the email addresses that comply to the industry standard «RFC 822 IS» and "extracts" the person's full name, first name and last name automatically.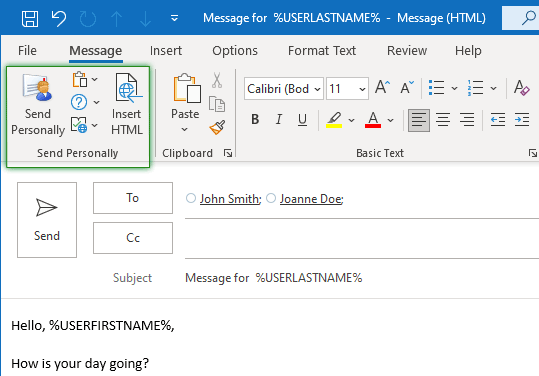 The Mail Merge Toolkit is a more sophisticated and robust tool for personalized mass mailing and hiding recipients in Outlook. It basically extends the regular Microsoft Word mail merge feature, adding a list of features of its own. Providing a second option beside the familiar "Electronic Mail" during the 6th step of Microsoft Word's "Mail Merge Wizard", it enables a user to produce extremely precise and fine-tuned large mass mailings with hidden recipient lists by employing external data-source files; these could be Microsoft Excel, Microsoft Access, or other database file formats of user's own choosing (while keeping the option to generate personalized letters and hiding recipients in Outlook using the default Outlook Contacts address book as a data-source), which he/she can structure and edit to include every piece of recipients' individual data required by the author's use-case, such as a person's email address, salutation, first and second names, company, or any number of others. All these will be later used to replace the generic "Macros" in the main letter's body (for example, the placeholder «First» will be replaced by "John").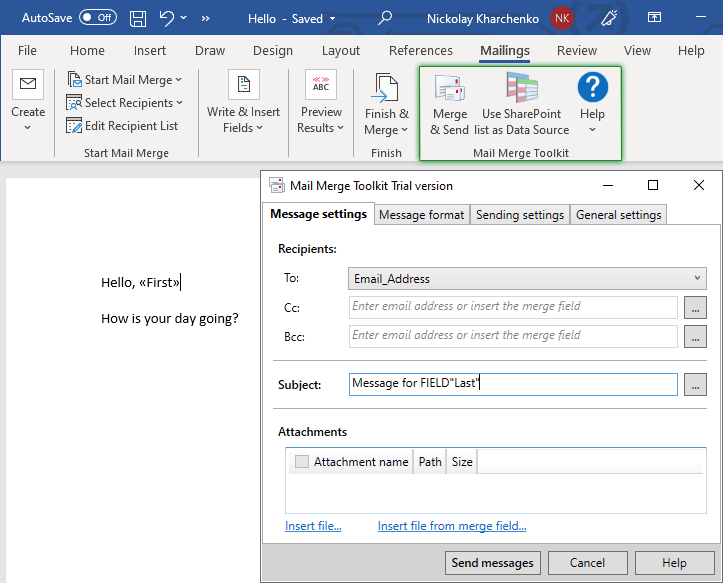 The Mail Merge Toolkit is widely used for its other game-changing feature alongside seamless personalized mailing with hidden recipients in Outlook– including personalized attachments of any imaginable file format. The Mail Merge Toolkit can generate as many individual letters as there are recipients in the contact database, and will send them all separately from the normal Outbox in Microsoft Outlook.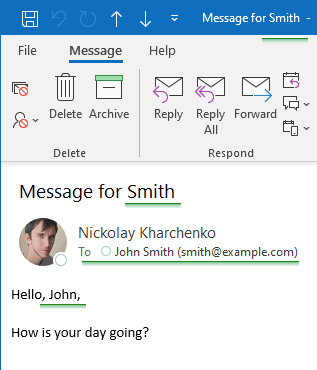 Such practices as generating a mass mail and hiding recipients in Outlook not only introduce more ways of efficiently and respectfully reaching out to staff and/or corporate clientele, but also provide a natural workaround for the spam protection algorithms employed by some Internet Service Providers, which is especially important when sending from a personal account.
Want to distribute your mailings professionally and hide recipient names in your messages?
Just try free 30-day trials of Send Personally or Mail Merge Toolkit and see all advantages of these Outlook add-ins!