Do you often have to print a lot of emails or attachments working with Outlook? Wouldn't that be easier if you had a specific, but perfectly integrated tool for it? Check out this brief overview of the capabilities offered by Print Tools for Outlook. This concise and efficient toolset by MAPILab is an easy way to boost your printing productivity!
"Please consider the environment before printing this email." If you have already considered, and you're absolutely sure you need to print this message or its attachment — as well as another dozen or two from today's mail flow – you could probably do with a special tool for it. In this short post you will learn how to use an Outlook add-in by MAPILab called Print Tools for Outlook.
Upon installation, you will find the add-in under MAPILab Tab on the Ribbon, among other MAPILab tools if you already have some. The dropdown menu features a few commands, which are applied to one or more selected items in the viewed folder, and shortcuts to settings.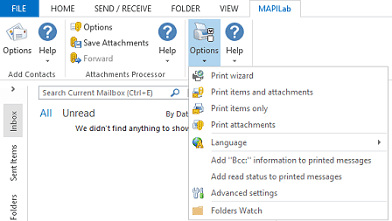 The add-in is implemented as a wizard which makes it a no-failure, user-friendly solution. The wizard couldn't be any simpler – in fact, it's a single window where you can indicate whether you want to print one item, the entire folder or items received within a certain time frame. You can also choose whether you need to print attached documents, messages, or both, and specify the outlay (table or separate items).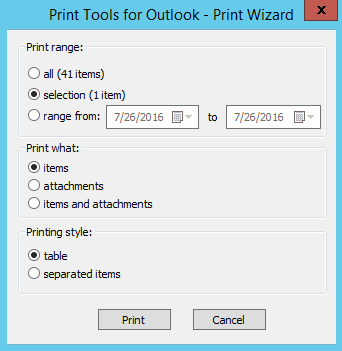 Furthermore, the add-in is customizable in terms of options you would like to be displayed in the menu, which makes its laconic interface even more concise. That is to say, if you only print attachments, you can uncheck all the other boxes in the Print Tools settings, turning the add-in into an almost invisible one-button shortcut to the feature you need most. In this menu you can also specify the printer you plan to use.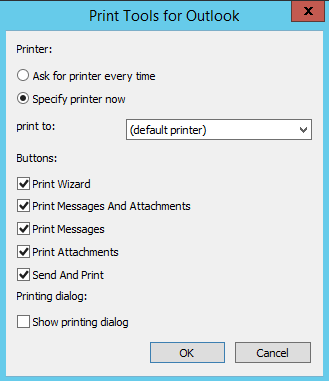 Besides, if you have to monitor certain folders and print documents as soon as they are delivered there, the toolset could help you out with its Folders Watch feature, which enables automatically printing of new messages (or attachments, or both) from designated folders. To choose the folder, or a few folders, click on Folders Watch in the add-in's dropdown menu.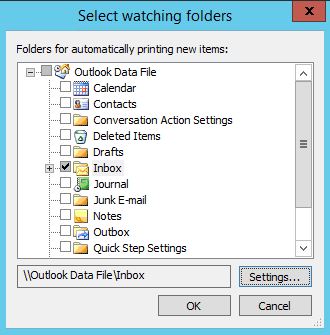 When you've located the folder and highlighted it, click on settings. In the setting you will find a number of automatic printing options that can help you avoid accidental printing of irrelevant items. Thus, if you're interested in printing PDF invoices that arrive to a certain folder from your partners, you can specify the exact file type. Combined with a few Outlook rules, this automatic printing tool can work miracles in terms of reducing your workload.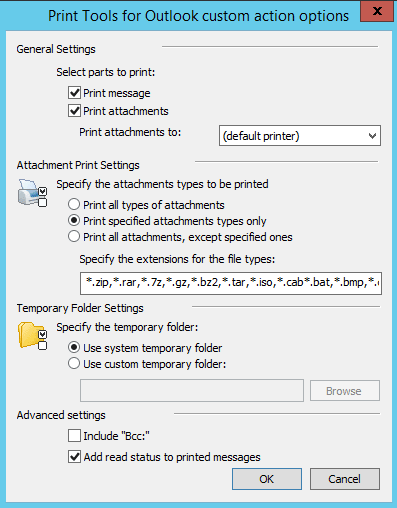 And finally, you will be pleased to know the add-in is so well integrated that you will find all the necessary options in the dropdown menu after right-clicking on an item in the folder.
All in all, printing emails and attachments is not a big deal, until you have to print them in dozens, in which case a specialized tool comes really handy. Print Tools for Outlook, an add-in by MAPILab, is concise and simple, offering just enough features to boost your Outlook productivity without complicating your routine.