Annoyed with hundreds of duplicate messages in your Exchange public folders? Automatic methods of removal are useless in this case, as Outlook client does not receive notifications of new messages in public folders. Instead, you can use Duplicate Email Remover by MAPILab to get rid of all duplicate messages – even if they are stored in different folders.
Microsoft Exchange is inseparable from the modern corporate environment, and Public Folders is the most useful feature when it comes to team work and sharing responsibilities. In essence, a public folder is a shared folder on a Microsoft Exchange server which can be used for collection, storage and organizing of information within an organization. Mail-enabled public folders function as mailboxes, so they can receive and send messages, and be included in distribution lists and rules.
However, managing messages in public folders has a few limitations on client side. Thus, messages arrive to public folders on server side, and the Outlook client doesn't receive notifications of their arrival. The messages synchronize with the client when the user opens the public folder to view it. Consequently, automatic methods of duplicates removal are not likely to work with public folders.
Instead, you can use a specialized tool to get rid of duplicates there, such as Duplicate Email Remover for Outlook by MAPILab. This powerful and efficient solution works on the client side and does not require support of your Exchange administrator (given that you have adequate permission to apply changes to items in public folders).
Duplicate Email Remover is an Outlook add-in which is configured through a wizard, so it works well for users with different levels of expertise. One of the most useful feature of this solution is the possibility of removing duplicate messages which are stored in different folders, including public folders. Let us take a quick look at how it can be done.
First, you specify whether you are looking for duplicates in the same folder or in a number of them.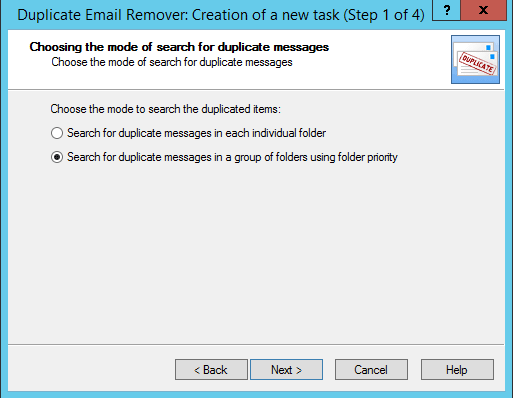 Second, if you are scanning more than one folder, it is recommended for you to set a priority, selecting the folder or folders where a copy of a duplicate message will be considered the original.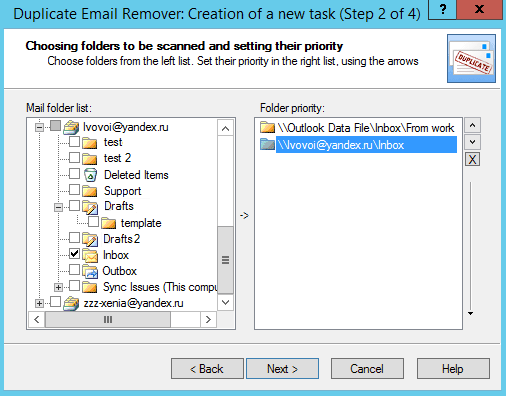 Third, the wizard prompts you about actions to be performed on duplicates, such as deleting, moving to a selected folder or marking with a flag. When working with public folders, it is good to remember that deleted items from Public Folders are deleted permanently, so it would probably be a better idea to mark them or move to a dedicated folder for further review.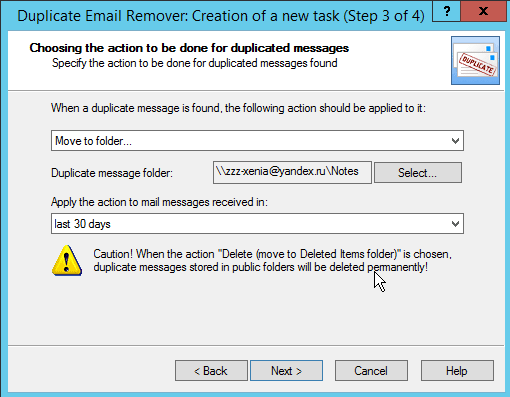 Finally, Duplicate Email Remover offers a flexible set of criteria for messages which should be recognized as duplicate. By default, text, subject, and sender email are permanently selected, but you can also add sender's name or attached files to be scanned as well.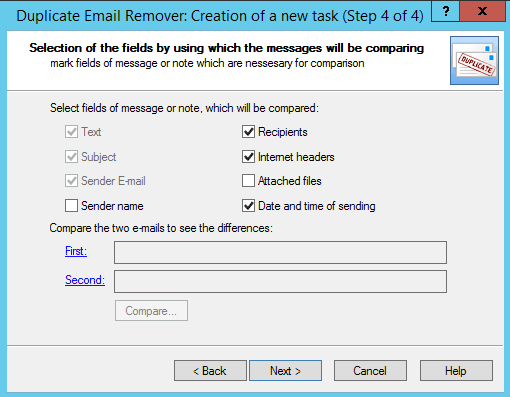 Overall, removing duplicates enables you to keep your Outlook well-organized and save resources for better performance and lower maintenance costs. As for Public Folders, duplicates can slow down search through the folders and access to items in them. Eliminating duplicates in Public Folders from the client side is easy and efficient with the help of MAPILab Duplicate Email Remover.