Your colleague sent you a script file or HTML Help (.chm) document or even link (.lnk) to the file stored in the file server but Outlook blocks access to the file. What to do? Outlook blocks certain attachments or, rather, blocks access to certain types of received files, because of potential risks associated with these file types. The file type, indicated in the extension, a few letters following the dot at the end of filename, determines whether the file may or may not present a potential threat to the user's security. For this, Outlook has a blacklist of potentially hazardous file types including a few dozens of items, such as .exe, .bat, and .cmd. (full list of blocked attachments can be viewed here: https://support.microsoft.com/en-us/office/blocked-attachments-in-outlook-434752e1-02d3-4e90-9124-8b81e49a8519). As you may have noticed, the key word of the paragraph is 'potential', and that is to say, unlike your anti-virus, Outlook can't tell whether the file is really dangerous or not. As a result, it blocks a lot of useful files, even if they come from highly trusted senders, just to be on the safe side. The question is, why does it happen?
In the epoch of cyber-crime, with social engineering being one of its most powerful weapons, the option of sending a brand new virus as an email attachment, having disguised it as a handy trial app or a funny Flash game, is far too big a loophole for Microsoft to leave unattended. The function of blocking attachments in Outlook has a long history and dates back to late 90s, when Microsoft chose to protect its millions of users, even at the expense of convenience to some extent, in the aftermath of a violent outbreak of viruses in 1999. Today, no matter how thoroughly you scan all the email client settings, Microsoft values its reputation too high to enable users to assess risks associated with their attachments on their own. Sad but true: security risks awareness of many users leaves much to be desired and hackers come up with more and more viruses every year.
Anyway, in the event of a blocked attachment, Outlook still downloads the file from the server and stores it as part of its .pst mail base. However, it is not so easy to make your Outlook let go of a suspicious file once it has been blocked. Microsoft suggests several workarounds to prevent Outlook from blocking attachments. First, it is recommended to send files in a compressed format, such as .rar or .zip, so you can just ask the sender to compress and resend the attachment. In addition, zip and rar archives can be scanned and they also take up less inbox space and download time. Second, you can use an FTP server or site and share access to files. And last, the file can be renamed by changing its extension, for instance, from .exe to .exe_me. Then it won't be blocked by the recipient's Outlook, but the recipient will need to save the file to his hard disk and restore the original file extension in order to launch the file. If these options do not work for you, another way is to edit the Windows registry (and this method is not recommended by Microsoft, because careless operations with the registry may brake the normal software functioning). To start editing, close the Outlook and enter regedit in the Run command or type it in the Start Menu's Search Box (for Windows Vista and 7 users), or when you open the Start screen (in Windows 8). Then locate the key:
Outlook 2013 (version 15.0)
HKEY_CURRENT_USER\Software\Microsoft\Office\15.0\Outlook\Security
Or:
HKEY_CURRENT_USER\Software\Policies\Microsoft\Office\15.0\Outlook\Security
Outlook 2010 (version 14.0)
HKEY_CURRENT_USER\Software\Microsoft\Office\14.0\Outlook\Security
Or:
HKEY_CURRENT_USER\Software\Policies\Microsoft\Office\14.0\Outlook\Security
Outlook 2007 (version 12.0)
HKEY_CURRENT_USER\Software\Microsoft\Office\12.0\Outlook\Security
Or:
HKEY_CURRENT_USER\Software\Policies\Microsoft\Office\12.0\Outlook\Security
Outlook 2003 (version 11.0)
HKEY_CURRENT_USER\Software\Microsoft\Office\11.0\Outlook\Security
Or:
HKEY_CURRENT_USER\Software\Policies\Microsoft\Office\11.0\Outlook\Security
Outlook 2002 (version 10.0)
HKEY_CURRENT_USER\Software\Microsoft\Office\10.0\Outlook\Security
Or:
HKEY_CURRENT_USER\Software\Policies\Microsoft\Office\10.0\Outlook\Security
and add a new case sensitive string value, Level1Remove. After double-clicking on the value, enter the Outlook attachment extensions that you would like to be able to open, separating them with a semi-colon if they are multiple. Now, when you re-launch your Outlook, the attachments won't be blocked anymore. Please keep in mind that, if you choose to disable blocking certain types of attachments, you should re-enable it after saving the attachments in question to your hard disk as this Outlook functionality significantly decreases security risks. Moreover, the abovementioned solutions work for Internet mail users, whereas Microsoft Exchange users will have to contact their email administrator to unblock Outlook attachments on server level.
Nevertheless, for some users – for most of them, actually – manual registry editing does not sound too inspiring, and they prefer to use specialized tools, such as Attachment Processor for Outlook by MAPILab. It is a comprehensive three-in-one solution: automated processing of compressed attachments, compressing attachments before sending and also managing the list of blocked Outlook attachment types.
Upon installation, you will find this add-in under MAPILab tab on the Ribbon. By default, the add-in runs in Simple Mode, but it is also possible to switch to Advanced Mode through Add-In Options in File menu. The principal difference between the two modes is that in Simple Mode you work with settings of one rule that will be applied to all the messages, while Advanced Mode provides for creation of numerous rules. Attachment Processor for Outlook is a powerful solution with a lot of settings and opportunities for personalization, so let us concentrate on a few of its most useful features.
First, under General tab, the add-in suggests that you choose a folder on your hard drive to save Outlook attachments to.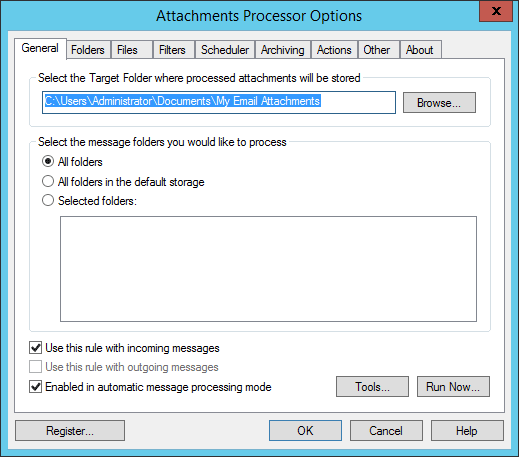 The following tabs, Folders, Files, Filters and Scheduler, enable you to adjust the processing of incoming attachments by sorting them into subfolders of the general folder, by indicating which files to process and how precisely, and finally, by scheduling downloads and processing so as not to interfere with your routine. Next, Archiving tab is a full-fledged auto-archiving tool enabling to compress and extract both incoming and outgoing attachments, as well as protect archives with a password.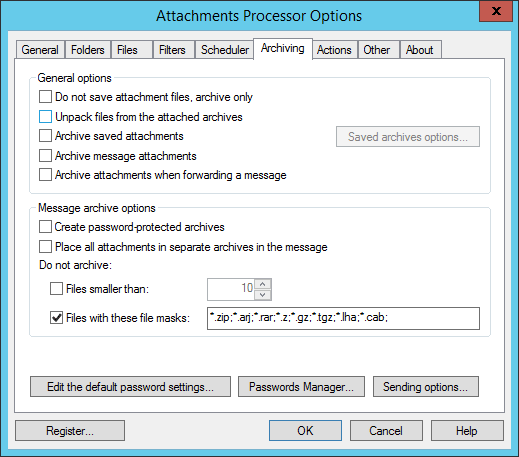 And last, but not least, the add-in provides access to the list of blocked Outlook attachments. The news of the day that you do not need to edit the registry anymore – just click on Tools in Add-In Options and choose Blocked Attachment Settings to exclude any file type from the blacklist.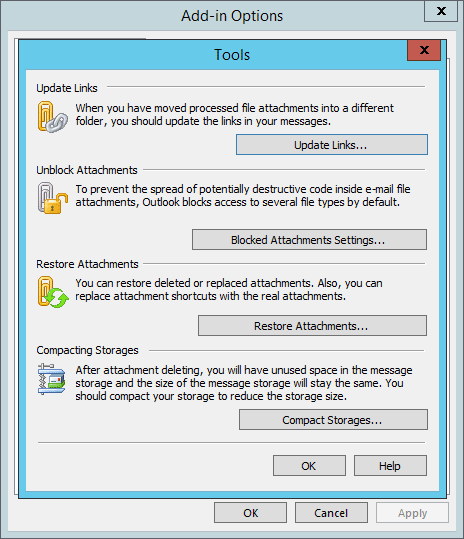 However, it is still recommended to restore the default Outlook settings after you receive the attachments you need, in order to reduce security risks. Take care and enjoy working with your Outlook, which has become even more functional!